News
Costume design class of Tarehistan school in Tehran
Clothing design training
Undoubtedly, by now you have realized the endless charm of the clothing design profession. A profession that has now become one of the most lucrative jobs in the world, with excellence and skill at the forefront. All the actors and celebrities around the world have their own costume designer and try to wear the best costumes in important artistic ceremonies and use it as a way to increase people's attention to themselves.
Today, fashion designers have a special place in the big fashion industry and they are becoming very important in the lives of all people. Therefore, the desire to enter this lovely profession has increased day by day, and if you have creativity and good talent in this profession, such as drinking water, you can earn very good income this way. But what do we need to do to become a fashion designer and where to start?
Costume design training from beginner to advanced
To become a professional in the field of clothing design, you must be familiar with the principles and rules of this field and be well trained in all its steps. Here you have two options and you can choose one based on your interest or using the experiences of others. The first way is to study in the field of costume design and participate in university costume design classes, and the second way is to participate in costume design courses in prestigious schools of this profession.
But what is the best way for you to learn this profession? Let's take a look at these two methods first and explain the general process of both. In the first method, you have to study well and take the national exam, and if you pass the field of clothing design, start your studies at the university. You will study in this field for 4 years, but during these years, you will often become familiar with the theoretical concepts of this field, and if you want to be well trained in practical work, you must go to a reputable school and learn the trick of clothing design. get. Eventually you will become familiar with the basics of costume design as well as your bachelor's degree in costume design.
In the second method, but compared to the first method, the learning time will be less and your theoretical and practical knowledge of clothing design will be more. You no longer need to take some long courses at the university for 4 years and you have more time so that you can learn the profession well by attending a costume design class. In the costume design course, everything you need as a student will be taught to you, and finally, after 6 months, you can reach an advanced level from a beginner in this profession and become fully acquainted with the rules and principles of costume design. Costume design courses at reputable schools give you the opportunity to create your own ideas and learn how to implement them. In this method, however, there is no degree. But how important is a degree to be successful in this profession?
At a glance, many of the world's most famous fashion designers did not have a degree in costume design or had studied other fields of art. In the fascinating world of fashion, having a degree is not very important for people, but the idea and design that they create will show their knowledge and skills. But along with these, the importance of the degree can not be ignored. In one sentence, we must say that having a degree in this field is necessary but not enough, and in contrast, creativity and innate talent in this profession is a necessary and sufficient condition.
Importance of internship and work experience
Becoming a professional in costume design and gaining skills in it often begins as an intern or design assistant for students. When you want to start your career in a group, the importance of having a degree in this field varies according to the employer. The internship is very important in this profession and it can be considered as the most golden stage of learning to design clothes.
The costume design internship course will be added to your work experiences and in this course you can develop your skills as well as expand your social network. Therefore, internship will be one of the most important steps in your success as a costume designer. In fact, the knowledge and skills that you will gain during the short period of internship will be effective in all your next stages in this profession and will play a very important role.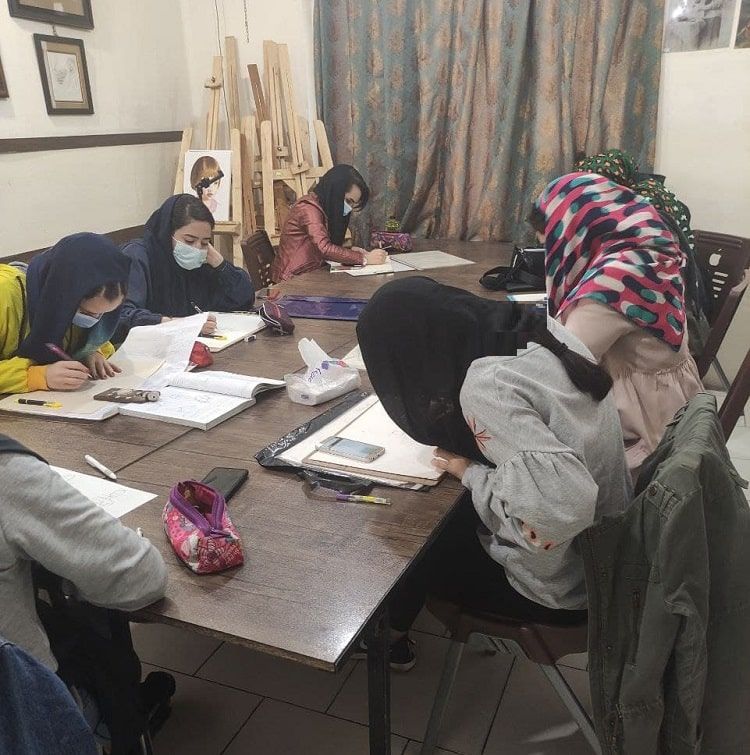 Learn and use advanced design software
Another important step in teaching costume design is learning graphic software and advanced design, and their very important role in this process can not be ignored. If you want to succeed and be ahead of all your competitors in this field, you must have the power to use these softwares and go step by step with the technology and its principles. As a costume designer, you have to update your information every day and think and walk with the world today. Among the main software for clothing design, the following software can be mentioned:
Adobe illustrator software
Gemini Software
Marvelous Designer Software
Gerber software
Rhino software (Rhino 6)
Edraw max software
Cameo software
PatternMaker Marker Studio software
Lectra software
Steps of clothing design work
1. Examining the needs and tastes of customers
As a costume designer, you should be aware of all the needs and tastes of the people in your community before taking any action. People who are going to be your customers soon and your job is to create clothes that meet all their needs and wants. So first check their needs and tastes.
۲. Design the desired clothes and bring your ideas on paper
Once you are aware of the needs and tastes of the people in the community and you have chosen for which group of them you want to design clothes, you should bring your idea and design to paper. To do this, you will need to be somewhat familiar with the art of painting and be able to implement your idea on paper. Therefore, at this stage, you should strengthen your painting art.
3. Choose a fabric that fits your mental design and get enough knowledge of the fabrics and the characteristics of each
Once you have put your idea and design on paper, it's time to start making your own fabric. You need to make sure that the fabric you use fits your design. Familiarity with all fabrics along with the characteristics and application of each is another science that is essential for every clothing designer to know.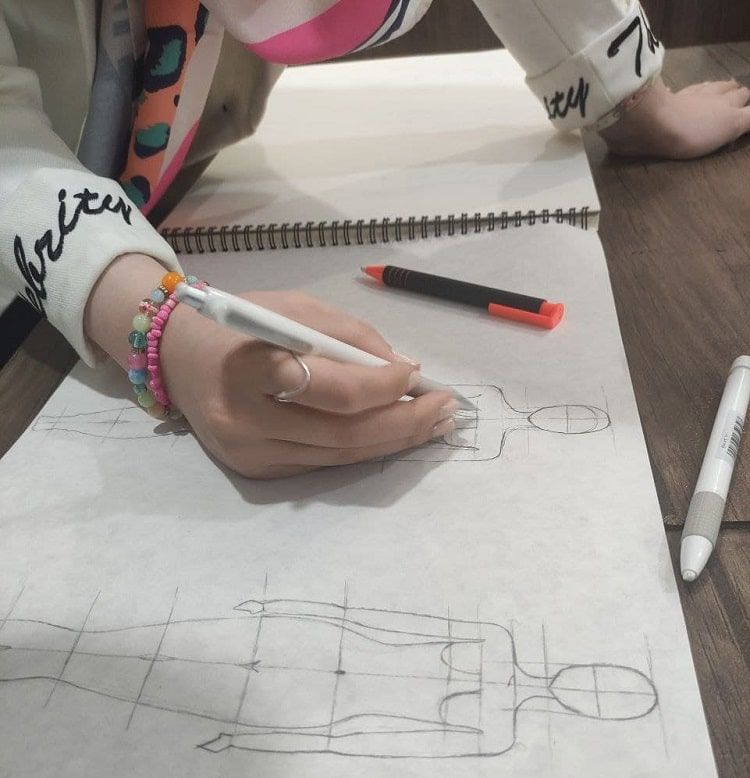 4. Implement the main design pattern on paper using assembly science
After selecting the fabric and preparing it, you should start drawing patterns. Implementation of the main design pattern on paper is done using assembly science. This science is taught to advanced students in costume design schools or costume design schools.
5. Sewing and producing the design by yourself or entrusting the design to a professional tailor
Here we come to the last step. This step may be done by yourself or by a professional tailor. If you take this step yourself, you should be familiar with the science of sewing. Most famous costume designers initially sewed their own clothes. Sewing is one of the most attractive steps in designing clothes, and we suggest that even if you do not want to be a tailor in your own design, you must have experience in sewing and be aware of its principles and tips.
What are the characteristics of a good clothing design class?
Having high credibility
Ability to implement students' ideas
Fostering students' creativity in the field of clothing design
Training to design clothes in accordance with international standards from basic to advanced levels
Teach all clothing design topics
Provide entry conditions for students in the labor market
Costume design course in the large school of Tarhistan
In the costume design class of Tarehistan School, you will get acquainted with the overview of the fashion design process and you will gain a deep understanding of the performance of successful designers. Through an online or face-to-face classroom, you will be instructed on where to look for inspiration, how to do visual research, and how to nurture your creativity.
Each week you will be given a practical assignment, and the following week the professional professors will give you their personal feedback, and the school will give you the opportunity to connect with your classmates and share your ideas. At the end of the course, you will gain new insights into how the fashion industry works, and you can expand your design collection on your own.
Headlines
Figure design and clothing design basics (40 hours)
Familiarity with the profession of clothing design and the skills and branches of this field and related technologies in the world today
Linear and volumetric and muscular figure design
Educate Ms. and Mr. Figor with proportions and standards from different angles
Face design and face components
Design of hands, feet, bags, shoes, clothing components, and sitting clothes on limbs and shading
Fast design
Familiarity with visual elements (dots, lines, surfaces, etc.) and the use of lines in clothing design
Training of clothing silhouettes and clothing design for various body defects
Color in clothes (16 hours)
Familiarity with different types of primary and secondary colors and color contrasts
Eaton cycle and tonalities
Learn to set the color of clothes according to different seasons
Learn to set the color of clothes with different skin and hair
Learning to choose colors for age groups and children and colors in jobs
Sexization techniques (24 hours)
Sexization of light and dark skin
Gender and recognition of jeans, leopards and patterns, silk and net, velvet, satin, guipure, lace, leather, lame, wedding dress, stone, mirror, fur, jacket, sequins and …
Watercolor technique and wedding dress
Stylistics (16 hours)
A study of clothing design styles in Europe and America from the 17th to the 21st century
Introducing contemporary clothing designers
Introducing various collections with practical exercises
Portfolio or creativity in clothing design and collection (36 hours)
Teaching practical concepts of preparing clothes collection
Teaching creative techniques in clothing design
Familiarity with different types of fabrics and fabrication techniques
Training on designing a special collection for the Iranian market
Computer-aided clothing design (15 hours)
Familiarity with Marulus Designer 3D design software
Knowledge of practical tools for pattern drawing, pattern arrangement, sewing and clothing simulation
Gender training of clothes and fabric arrangement
Modeling of basic clothing samples
How to output and create animation from the designed model
Source link