News
cloud space; Parspack cloud storage space
Today, various companies offer cloud computing, each of which offers specific capabilities and features to users. Pars Pack Company is considered one of the top and reliable companies selling cloud storage space. In fact, Pars Pak's cloud space is known as one of Iran's reliable cloud spaces by benefiting from Amazon's S3 protocol. In this article, we are going to fully review Parspack cloud storage service and introduce you to its features, advantages and disadvantages. So stay with us until the end.
Features of Pars Pak cloud space
Pars Pak cloud space It has its own features and capabilities. This space is based on Distributed storage systems and Software Defined Storages, which allows users to store their files with full confidence. Some of the features of Pars Pack cloud storage service include:
Parspack's cloud space uses Amazon's S3 protocol.
You can access all the information stored on the network.
To increase the security of stored data, it automatically prepares three copies.
The cost of purchasing Pars Pak cloud space is very reasonable and affordable.
According to the new and modern needs, it is possible to upgrade the space and hardware of the system.
It is possible to manage files through the powerful cloud storage panel of Pars Pack.
By using the Multi-Tenant architecture feature, a group of users are given different accesses.
To increase the security of communication between users, it is encrypted by HTTPS.
Application of Cloud Storage Pars Pack
By using this service and through the Internet, you can access your important information 24 hours a day. Also, you don't need to worry about losing your saved data; Because this service provides a safe and secure platform for storage.
As in the article What is cloud storage? We said, if your data volume is very large, you can use Cloud Storage; Because it has significant scalability and the price is reasonable.
After getting to know some of the features and applications of Pars Pack cloud storage, we are going to talk more about the advantages and disadvantages of this service.
Advantages of purchasing Pars Pak cloud space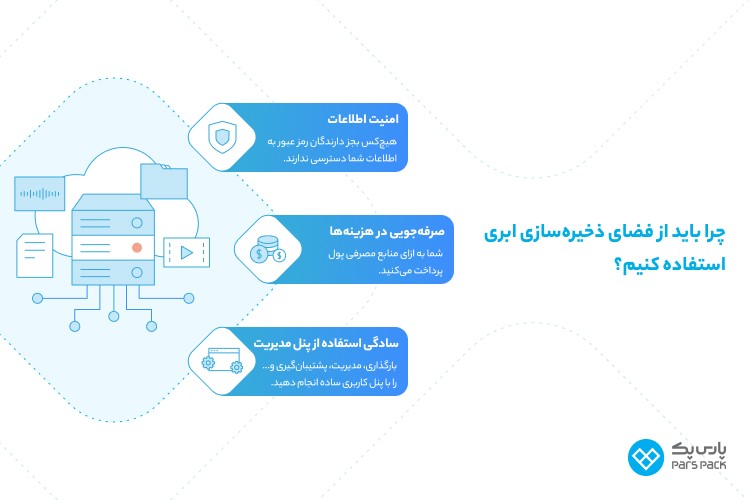 Among the advantages of Parspack cloud storage service are:
Reduce additional costs
Access information anytime and anywhere with an internet connection
Recover lost files and save time
Regular daily backups
Great security in maintaining information and data
Why buy cloud storage space from Parspack?
The question that arises in the minds of many users is, why should we choose Pars Pack to buy cloud space? In response to this question, we must say that Pars Pack is one of the best and first Cloud Storage provider companies in Iran with several years of experience. Relying on the world's knowledge and technology, this company has been able to provide the best cloud storage space to its users. Next, we will introduce you to some important features of Pars Pack.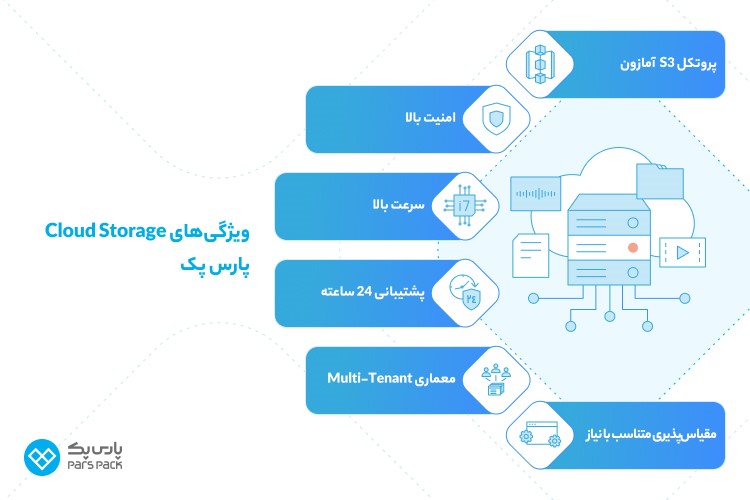 24 hour support
One of the concerns of users when buying cloud space is the support of the provider company; Because many users face problems when using the cloud storage service, which they seek to solve quickly. Fortunately, Pars Pack is ready to answer the questions and problems of its users 24 hours a day, and users can receive the necessary guidance from the company's experts and engineers in the shortest possible time.
Cloud storage security
Data security and preservation are also among the important points that users pay attention to. Pars Pak cloud storage space Using Amazon's S3 standard, it has provided a lot of security for users; So that users can save their data safely in this service. Also, after uploading their files to the service, users can use encryption software to create a password so that only they can access the data.
Backup from Cloud Storage
Another feature of the Pars Pack cloud service is that you can back up and access your data daily.
Adequate speed
The speed of uploading and downloading files in the Pars Pack cloud service is very high; Because the powerful servers of this company use new and specialized hardware resources and up-to-date cloud storage technologies. Therefore, users can upload and download their files in a short time.
Uptime and cloud stability
Another feature of Pars Pack cloud storage is the use of powerful hardware and placement of servers in reliable and high-quality data centers, which allows you to access this service at any hour of the day or night.
Scalability
Scalability is another important point to consider when buying cloud space. Parspack company has provided the ability to increase or decrease the volume of the best cloud space for its users. By using this feature, users can register their request to increase the volume of Coud Storage and receive the desired space in a short time, according to the increase in their data volume.
Conclusion
Parspack cloud space is a safe and reliable platform with optimal uptime and stability where you can store your files without worry. Cloud Storage Pars Pack has various capabilities and features that in this article, we tried to take a general look at them and review this service.
If you plan to access your data 24 hours a day and upload and download your files at high speed and store thousands of terabytes of files without worry and with great security, purchasing Pars Pack cloud space will undoubtedly be the best choice for you.
To buy Pars Pack cloud storage, you can go to this company's website right now and get it at a reasonable price.
Source link