News
Buy and sell with Samsung NFT 2022 TVs
Just a few days ago, in the list of the worst in the world of technology in 2021, we assigned one of the positions to the irreplaceable tokens known as NFT; Because although there is an interesting philosophy behind them, at present their only application is to another high-risk trade and market like Bitcoin, which has greatly diminished the grandeur of this great and revolutionary idea.
It is now reported that Samsung has strangely added the ability to search, purchase and display NFT works to its new series of smart TVs to be unveiled at CES 2022.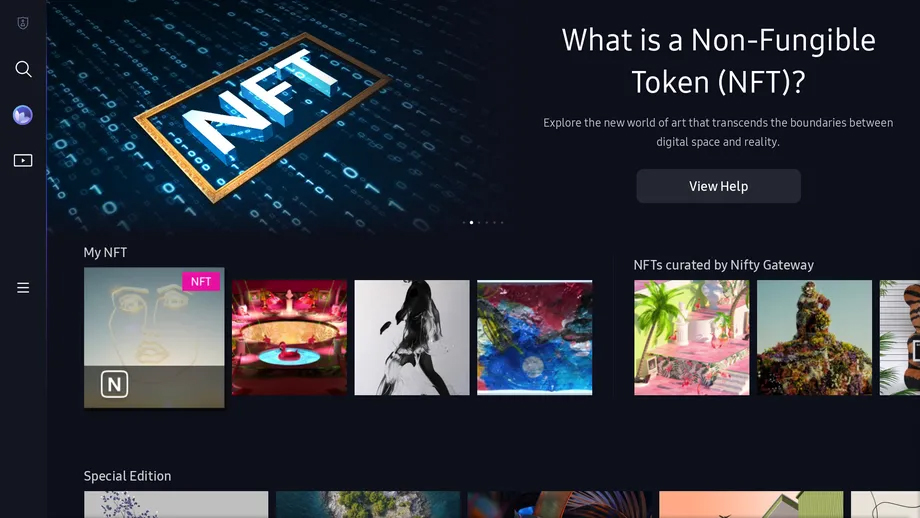 Preview of Samsung's 2022 NFT TV platform
Samsung has included this feature in a platform called NFT Aggregation, calling it "the world's first NFT search engine and collector based on the TV screen." Apparently, this platform allows those interested in buying NFT to watch the preview of the tokens available for purchase on TV and at the same time read about their history, who created them and what their blockchain metadata contains.
Introducing the NFT Aggregation platform, Samsung said:
As the demand for NFTs increased, the need for a solution to integrate the fragmented space available to view and purchase these tokens became more apparent than ever. In 2022, Samsung will bring the NFT market policeman and searcher to the world's television screen for the first time. "This revolutionary platform allows you to search, buy and display your favorite artwork in one place."
Of course, Samsung also has an idea for NFT creators. This platform for buying and selling non-replaceable tokens is designed to match Samsung TV's display settings using Samsung's intelligent calibration technology, so that the preview of these works of art is displayed to the user in exactly the same settings predefined by their creator.
Related article:
More details on the NFT Aggregation platform will be announced in the next few weeks, according to Samsung.
Although Samsung has come to the conclusion that the need for a search market and the purchase of NFTs has peaked this year, it is hard for us to believe that the fever of buying these tokens is so high that users want to watch and buy them on TV. It can be said that more platforms will support NFTs in the near future. It remains to be seen whether Samsung's outlook on consumer desire to buy NFT via TV will be realistic or optimistic.
Source link