News
Asus ROG routers come in an aggressive style to beat the competition
Asus continues to refine its powerful ROG Rapture routers by introducing not one, but two new products at CES 2022. These attractive kits have very aggressive styles that show their power to competitors.
According to Pcworld, the most important of these is the Asus ROG Rapture GT-AXE16000 Wi-Fi 6E quad-band. This new router is in many ways similar to last year's Rapture GT-AXE11000. The device offers a maximum speed of 4.8 Gbps in each of the 5 and 6 GHz bands and 1148 Mbps in its 2.4 GHz band, but now a second band of 4.8 GHz has been added, which requires Eliminates the choice between maintaining the second 5 GHz band or swapping it with the 6 GHz band. This new part allows the Asus router to offer a total of 16 Gbps of theoretical combined operating power (a speed you will never see in practical use, but still represents a very fast router). Given Asus' track record, it is likely that all three bands will be able to deliver 160 MHz bandwidth, so you will probably see the very high potential power of the Rapture GT-AXE16000 We will be.
Physically, the new Asus router is very similar to the original GT-AXE11000; We still see a square device with an industrial and large appearance. But now there is a transparent panel on the ROG eye logo, which makes it look a little more subtle. Also still RGB lights They are embedded in it, but they no longer shine under the logo and their location has changed. The antennas also appear to be slightly larger, and in addition to the eight external ones, there will be four internal antennas.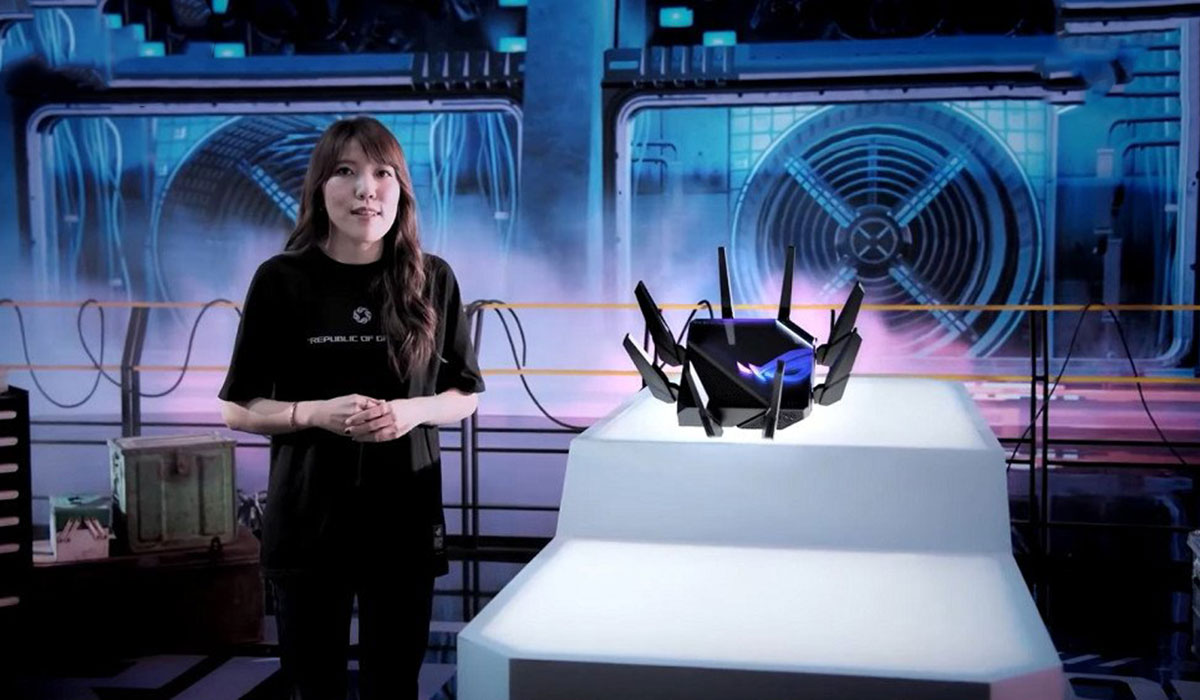 Another major upgrade of the Asus ROG Rapture GT-AXE16000 can be found in the 10 Gbps RJ45 dual Ethernet ports Found. They do not necessarily do anything to improve gaming performance, but they do speed up connections within your network wherever well-equipped devices are connected, and they also make file transfers very fast. Meanwhile, a port on the router WAN With a speed of 2Built-in 5 Gbps, which gives you plenty of space to connect to your ISP. Four LAN ports also complement the options available for Ethernet. It's great that consumer router companies have finally decided to add a few new ports to their products.
The new Asus router will also have two USB-A ports, one is first generation USB 3.2 and the other is USB 2.0. Interestingly, both USB ports on the older GT-AXE11000 were USB 3.2. Finally it should be noted inside the Asus ROG Rapture GT-AXE16000 There is a 64-bit quad-core 2 GHz processor with 1 GB of RAM DDR4 is supported.
Related article:
In addition, Asus has announced an updated version of the Wi-Fi 6 GT-AX11000, this time called the ROG Rapture GT-AX11000 Pro. The new model is almost identical to the previous version, but now it has a fourth band of 6 GHz, four internal antennas and a glass panel. Currently, the Rapture GT-AX11000 Pro Due to having two ports of 10 Gbps LAN and CPU faster, improved than its predecessor; Because the original version had a 1.8 GHz processor and used 1 GB of DDR4 SDRAM RAM instead of DDR3.
GT-AX11000 Pro and GT-AXE16000 Both of technology AiMesh They support. The second router can also use its 6 GHz band for dedicated wireless backup with other Asus routers. Use AiMesh Wi-Fi 6E. Asus expects the ROG Rapture GT-AXE16000 to launch in the first quarter of 2022 for $ 649, while the ROG Rapture GT-AX11000 Pro is scheduled for the second quarter at $ 399. These prices are $ 100 more and $ 50 less than the previous models, respectively.
Source link