News
Asus ExpertBook B3 tablet introduced with Windows 11 and processor based on ARM architecture
Asus unveiled its new two-in-one tablet called the ExpertBook B3 Detachable during CES 2022. This product is designed for professional users and is a unique device because it uses the Snapdragon processor and Microsoft Windows 11 Pro operating system.
The ExpertBook B3 Detachable is powered by a second-generation Snapdragon 7c eight-core processor along with eight gigabytes of LPDDR4 RAM. This product is also equipped with 128 GB of eMMC storage memory. The ExpertBook B3 is one of the first Windows 11-based devices to ship with an ARM processor. The use of ARM-based chips increases the battery life of the device considerably compared to the high-powered x86 processors.
The ExpertBook B3 Detachable, as its name implies, is designed specifically for business users who need a small tablet to take notes, view content, or work with Excel spreadsheets. Given the technical specifications of this product, we do not expect to be able to do things like video editing or heavy Photoshop processes without slowing down.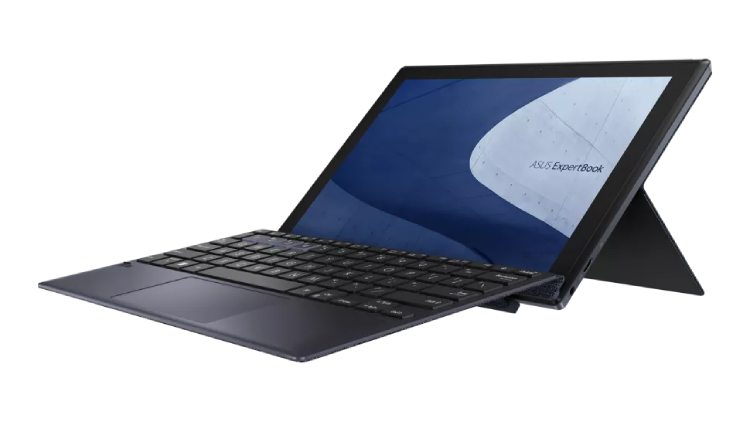 Asus has paired the product with its ExperBoard keyboard to turn the B3 into a real two-in-one device. This keyboard is magnetically connected to the tablet and has a very similar function to Microsoft's cover keyboards for the Surface series tablets. However, the B3 keyboard alone is not suitable for heavy-duty work, which is why Asus has integrated the tablet with its home ExpertStand. This stand allows you to use this tablet horizontally or vertically when needed.
Full specifications of B3 are not available at this time and for this reason we do not know some of the features of this product including its display specifications. Of course, Asus has mentioned that the display of this device has a 16 to 10 aspect ratio; A feature that can make more space available to the user than traditional 16-by-9 displays. The resolution of this display is still unknown, but it is said that this product uses 1080p resolution.
Related article:
The only B3 input / output port seems to be a USB Type-C port and a 3.5mm headphone port on the right side of the product. On the left side of the tablet are the power button and the volume rocker.
The B3 uses a stylus with an internal charge holder that can be used for note-taking. The charging speed of this pen is very high, as Asus promised, with just 15 seconds of charging, it can be used for up to 45 minutes. It is worth mentioning that in order to charge the pen, it must be placed in its special place on the tablet.
Asus has also produced the ExpertBook B3 in accordance with the US military standard MIL-STD 810H, so it can be expected to be very durable. Among the items that are tested on products in this standard is the resistance of the valley to 18 types of 40G shocks when the device is turned on.
Source link