News
Arzif exchange, high security along with the most diverse coins in the market
Arzif Exchange is one of the relatively new and reputable exchanges in the field of Persian cryptocurrencies that you can easily buy and sell your desired digital currencies by depositing Rials. Let's take a look at Arzif Exchange and its features.
Overview of Arzif
Utilizing a powerful team in the field of digital currencies, content production, marketing and sales, along with experts in the world of blockchain technology, Arzif team has tried to consider the possibility of buying and selling and exchanging digital currencies in a new context, providing complete security for users. Among The best Iranian exchange offices Provide. The assets of all Arzif users are kept with exemplary security in hardware wallets with the latest methods in the world.
Register in Arzif application
Initial registration in Arzif is very simple and you can register with only one phone number at your disposal, after installing the software. To start trading on this platform, you must complete and edit your user profile. Registering information such as card number, national code and email is one of the first requirements for completing a profile to get started. If you want to increase your trading volume in Arzif and work professionally, you need to complete your authentication.
User levels
After registering in Arzif, each user has a certain level and to upgrade to a higher level, he needs to complete the specifications and authentication.
Messi user level
At this level, you will be able to pre-register and be able to Login to Arzif application And you are the site. At this user level, you can only see some of the features of the application. Deposits and withdrawals, wallets and the trading department are not available at this level.
Bronze user level
After editing and completing the profile and registering basic information such as first name, last name, national code, email and account information, your user level will be upgraded from Messi to Bronze and you can start trading at a limited level. At this level, you can have a weekly deposit of 1 million Tomans in Rials; Of course, selling and depositing coins at this level is not limited. Also, daily withdrawal of 50 million Tomans (total Rials and Coins) is possible at this level.
Silver user level
If you want to deposit in Rials without any restrictions and trade with ease, in the profile editing section, you must enter more complete information such as address, phone, etc., and upload a picture of yourself and your national card in the application for authentication. After confirmation, you can deposit up to 100 million Tomans (from two accelerator cards) daily in Rials and withdraw up to 200 million Tomans in Rials and Coins.
Golden user level
This level is especially active and special users and is usually activated after a month of continuous activity and reaching the transaction figure of 500 million Tomans. Of course, in order to act as a golden user, users must sign the specified terms and conditions in person.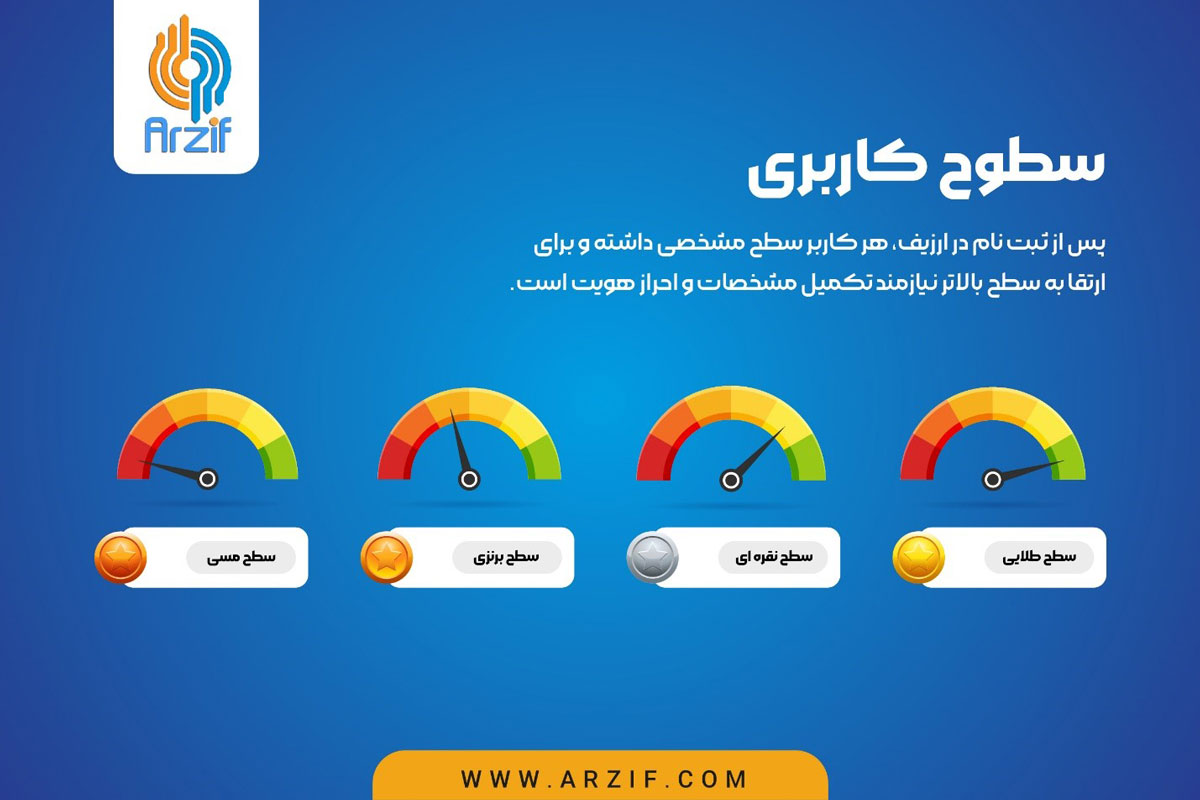 Why is Arzif special?
The existence of some special features has led to the recognition of Arzif as a special and different trading platform. These features include:
A different and very expressive user interface that makes it easy for everyone to work in Arzif.
High security and storage of passwords in hardware wallets with very high security
Benefit from a very advanced application for Android phones
Use the web version with a modern design for iOS phones
Having an accurate portfolio for all coins
Start investing only by depositing 100 thousand tomans
Utilizing cheap and of course valid tokens in the market (based on Quinn Market Cup ranking)
Utilization of valid charts and indicators Trading view

To analyze users

Insert valid market cryptocurrencies (Bitcoin, Tetra, Atrium, Ripple, Cardano, etc.)
Have more than 40 digital currencies to trade
Permanently monetize the system by introducing your friends
User-specific wallets for each coin and token
Fingerprint entry and high security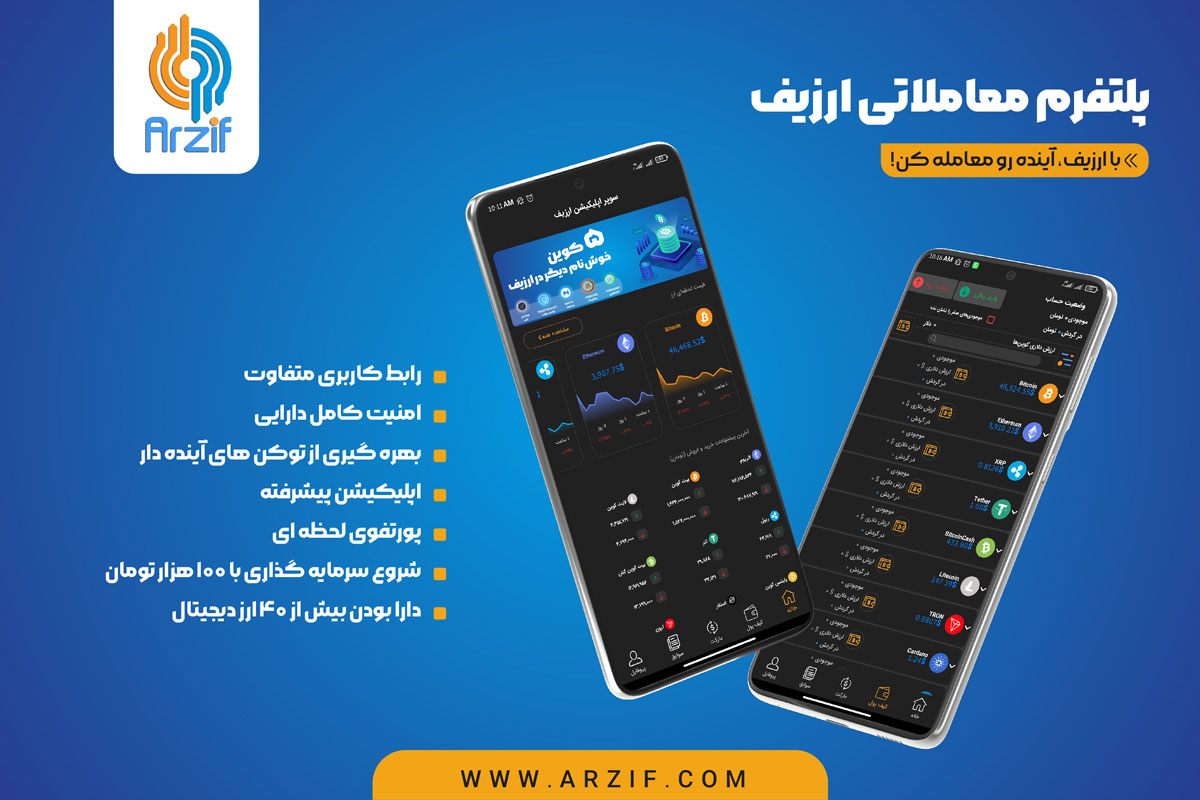 For free membership in Arzif, you can easily install its application through software stores such as Google Play or Miket, or from Arzif site Register and enter the different and special world of Arzif.
Source link