News
Apple Watch Series 8 versus competitors
Last night, the Apple Watch Series 8 was unveiled by its manufacturer, and its fans finally managed to see the product after months of various rumors. In the event on the 16th of September, other devices such as the iPhone 14 family and the new Apple Watch SE were also displayed.
Apple Watch Series 8 was introduced with a familiar look, but it has interesting features in the field of health that distinguish it from the previous generation. Among them, we can mention the body temperature sensor and the ability to detect accidents.
Today, in this article, we are going to put Apple Watch Series 8 against its competitors, Galaxy Watch 5, Xiaomi Watch S1, and Huawei Watch 3, to see which one is superior in various areas, including design, hardware, software, and battery.
Design and display
Apple Watch Series 8 has not changed in design and size compared to the previous generation and it can be purchased in 41 and 45 mm versions. The always-on retina display of the mentioned smart watch can show the attractive watch faces of this device more beautiful than ever, and the letters in it look more readable. In addition, the screen of this product has a brightness of 1000 nits.
Also, Apple has tried to design the 1.9-inch screen (484 x 396 pixels) of the Apple Watch Series 8 to be extremely durable. The thick crystal placed on it makes it resistant to cracking.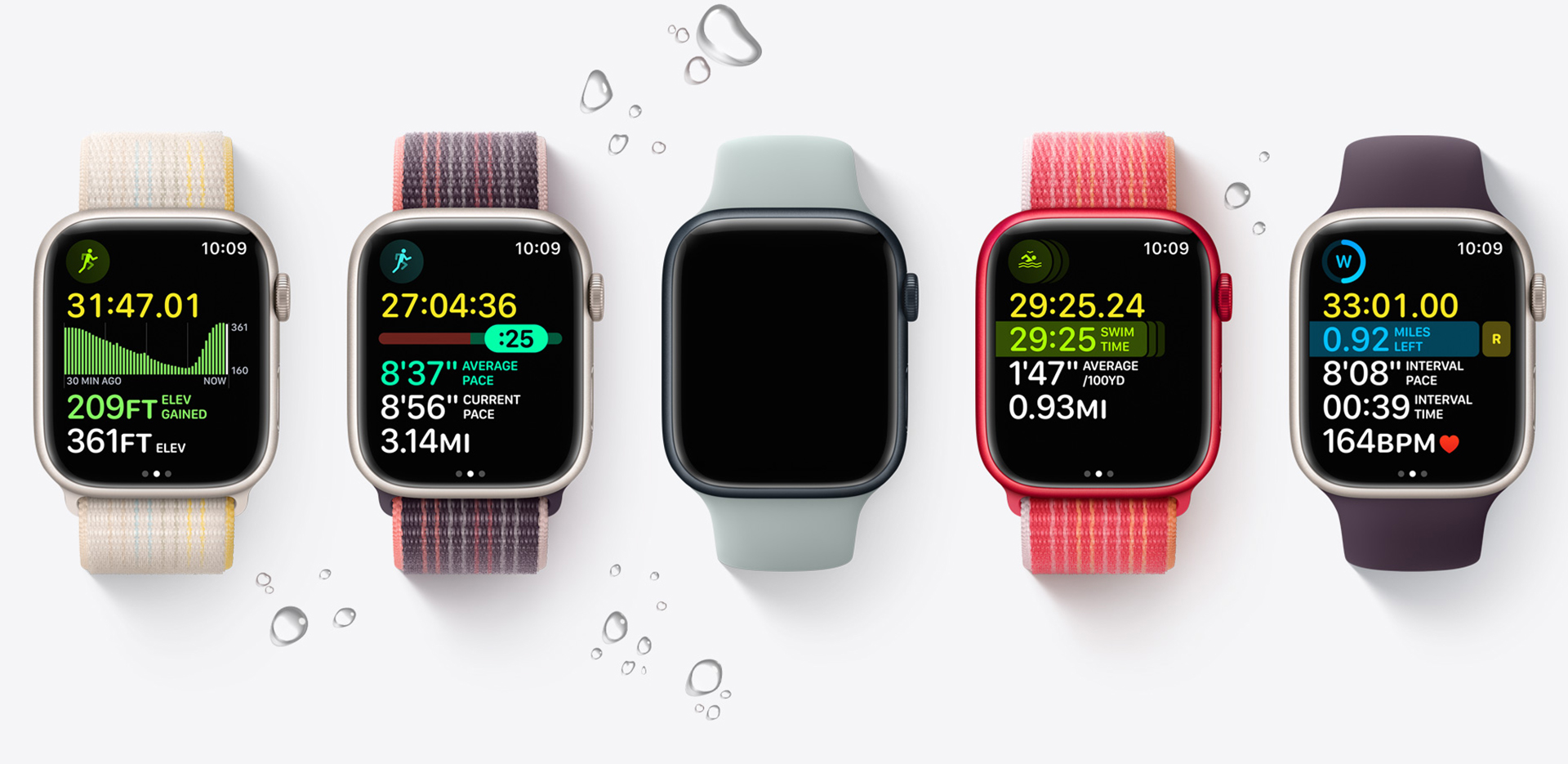 With the Galaxy Watch 5 series, Samsung has once again changed its smartwatch lineup. None of the Galaxy Watch 5 family inherits the physical rotating bezel of previous products, instead using a more subtle touch bezel. This product has 40 and 44 mm versions. One of the main design changes is the sapphire crystal display, which is more durable than the previous generation, and the curved back panel.
The Galaxy Watch 5 family has not inherited the physical rotating bezel of the previous products
On the other hand, Xiaomi Watch S1 is equipped with a 1.43-inch AMOLED display with a resolution of 466 x 466 pixels and a pixel density of 326 pixels per inch with sapphire coating. The frame of this watch is made of stainless steel and has leather straps. One of the attractive features of the Xiaomi smart watch is its classic design and up-to-date performance.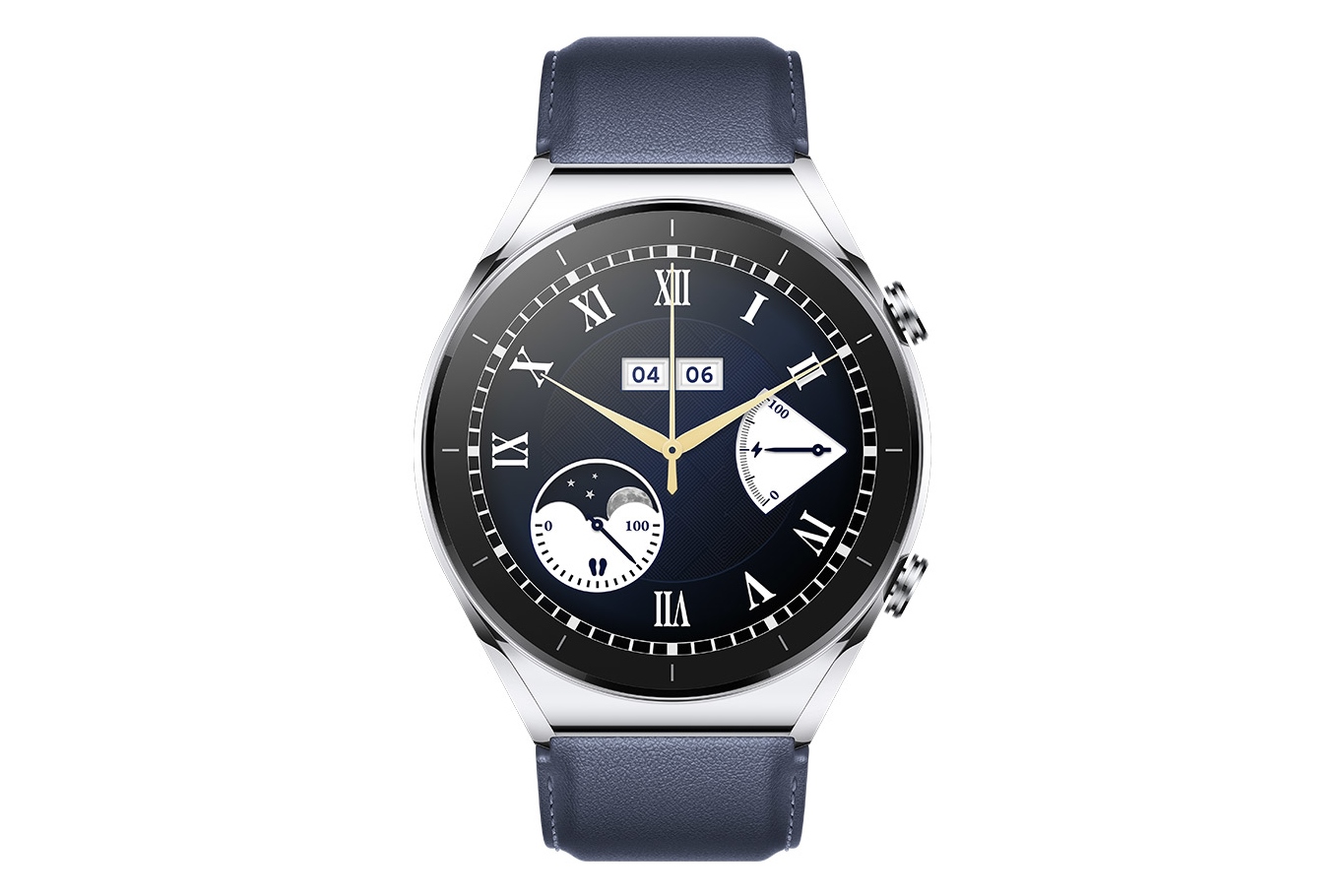 For Huawei Watch 3, the Chinese company has used a 1.43-inch circular AMOLED screen with a brightness of 1000 nits and a pixel density of 326 pixels per inch. Having this level of brightness means that it is possible to see the details of the screen in a bright environment, and you can even use the Huawei Watch 3 in an environment with direct sunlight. There is a protective glass screen to prevent it from being damaged, and the body is also made of steel; Of course, ceramic is used for the back panel of the smart watch.
Hardware and software
The S8 chip is used in the Apple Watch Series 8, but this processor has the same specifications as the S6 and S7. This means that we will not see significant performance improvements in the new generation of Apple smartwatches. The processor of this product is accompanied by 32 GB of internal memory and 1 GB of RAM. The Apple Watch Series 8 will also get a new watchOS 9 update, which will add new watch faces, a revamped workout app, and a medication app.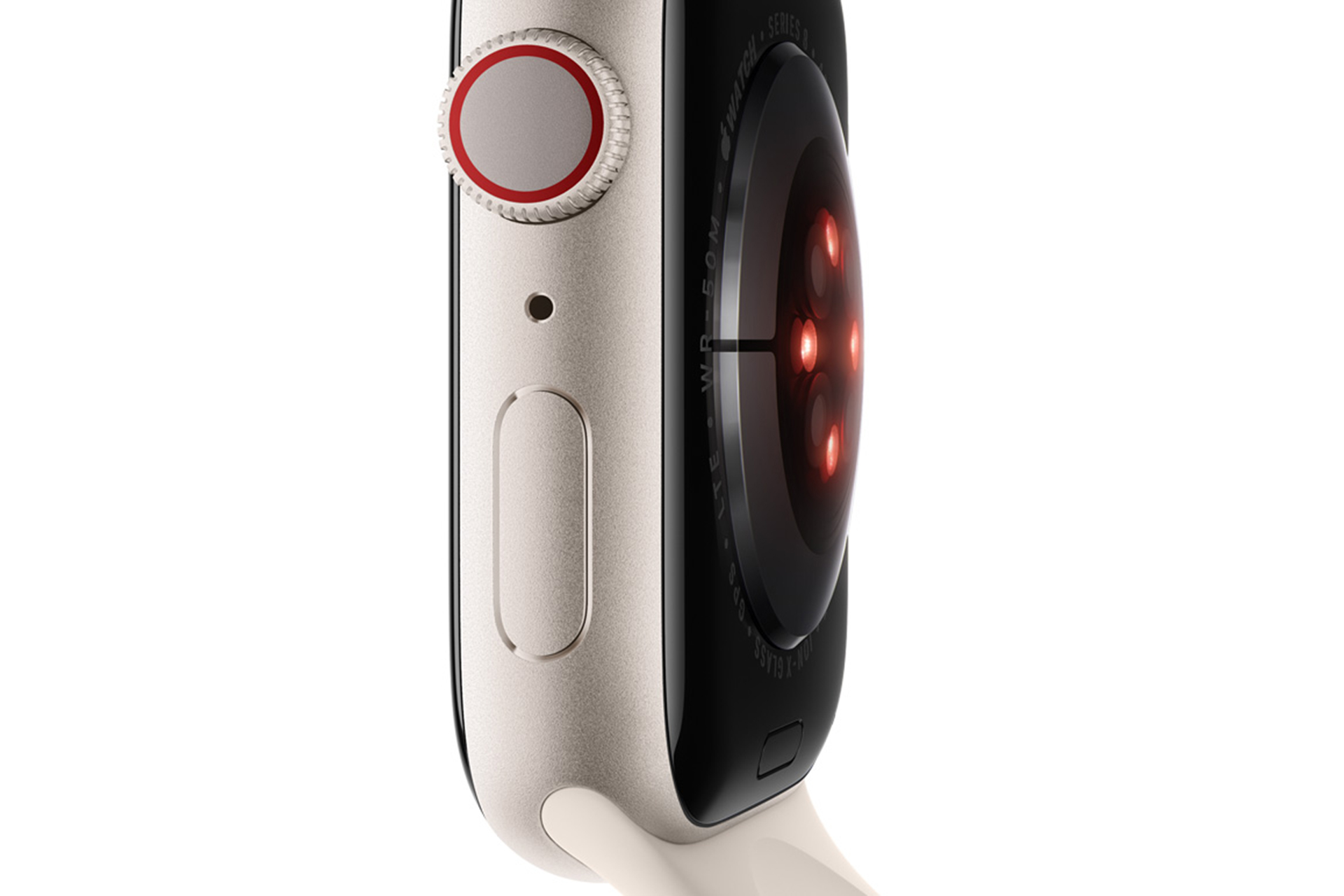 The S8 chip is used in the Apple Watch Series 8, which is not much different from the S7 or S6
Galaxy Watch 5 uses the Exynos W920 processor with 1.5 GB of RAM and 16 GB of internal memory. This product also features an improved version of the BioActive sensor that was first introduced in the 4 Series. The aforementioned ECG sensor enables heart rate monitoring and body composition analysis. Samsung says the improved sensor adds more advanced sleep tracking features to the Watch 5.
Samsung's smartwatch runs WearOS 3.0 with the One UI Watch 4.5 skin, which offers a host of new accessibility features, a better typing interface, and dual-SIM support. Also, apps like SoundCloud and Deezer are coming to Wear OS 3, and it's possible to use the voice navigation feature of Google Maps. In addition, Galaxy Watch owners can use Google Assistant on their watches.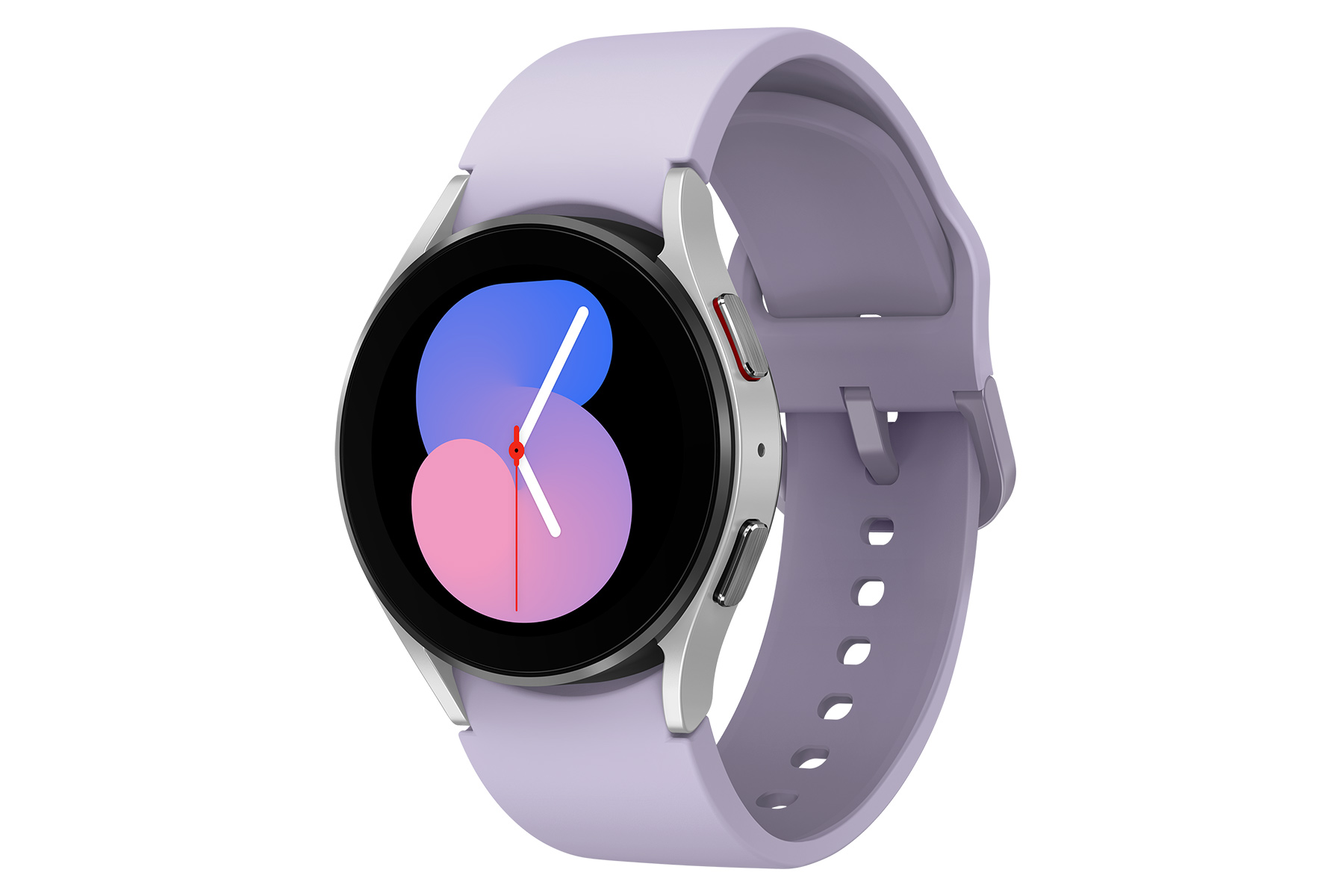 The Xiaomi Watch S1 comes with 4GB of RAM and 32GB of storage. The smartwatch supports 117 sports modes with GNSS positioning for outdoor activity tracking. Xiaomi notes that this watch monitors people's health 24 hours a day; But it does not explain about the device's sensors or its monitoring capabilities.
Xiaomi Watch S1 uses a proprietary operating system and the ability to support third-party applications such as It has NetEase Cloud Music and Baidu Map. On the other hand, the user interface of this smart watch is very easy and anyone can communicate with it.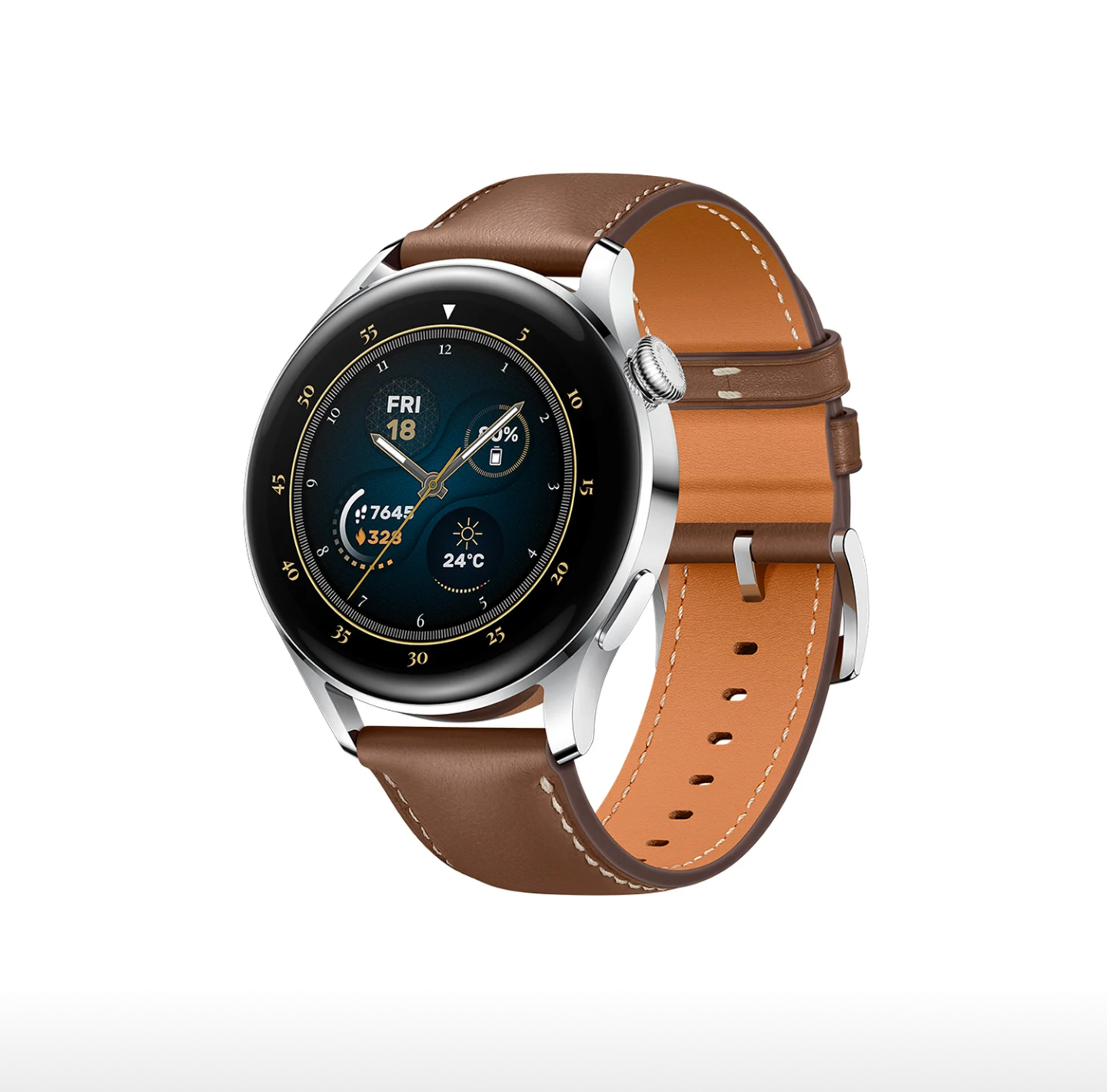 Huawei Watch 3 uses the Harmony 2 operating system and on its back panel there are sensors such as blood oxygen sensor or SpO2 sensor, heart rate sensor, body temperature sensor and stress sensor. Also, this product checks the hours the user sleeps during the day and saves the statistics of the mentioned items. The new Huawei smart watch also supports 4G communication and can receive voice calls. In addition, this smart watch has 16 GB of internal memory and 2 GB of RAM.
battery
In Apple Watch Series 8, a non-replaceable lithium-ion battery with a capacity of 309 mAh is used, which has not changed compared to the previous generation model, but the main problem is the new low-power mode, which can increase the battery life from 18 to 36 hours.
On the other hand, the 40 and 44 mm versions of the Galaxy Watch 5 have batteries with a capacity of 284 and 410 mAh, respectively. Samsung has also improved the charging speed. The company claims that its new generation smart watch chargers can charge the battery from zero to 45% in just 30 minutes.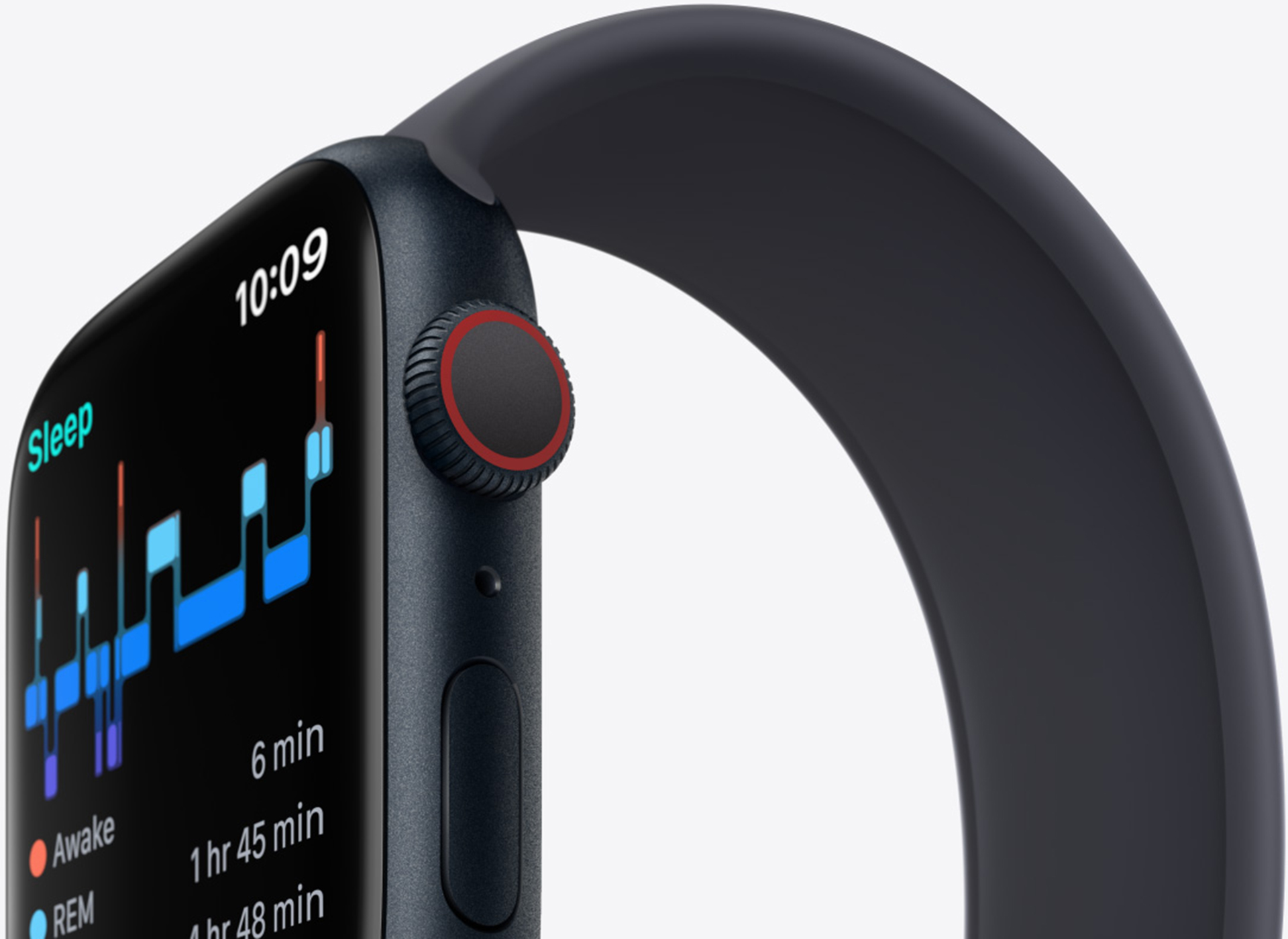 The required energy for Xiaomi Watch S1 is provided by a 470 mAh battery, which is responsible for up to 12 days of continuous use and up to 24 days in standby mode with a single charge. The manufacturer said that it takes only 2.5 hours to fully charge this device.
In Huawei Watch 3 from A non-replaceable lithium-ion battery is used that can support 10W wireless charging. The battery of this watch can last up to 14 days.
Other features
The health features of the Apple Watch Series 8 have received more attention, which is why the features added in the new generation are significant.
Apple Watch Series 8 has two temperature detection sensors, one under the device and the other under the display. Apple says that by adding this sensor, it can focus more on women's health. The mentioned product can track temperature changes up to 0.1 degrees Celsius and check the user's body temperature every five seconds. It is also said that tracking the body temperature during the night can help to improve the observation of the ovulation cycle. In addition, the crash detection feature allows this watch to quickly detect a severe accident and notify emergency audiences of the user's location.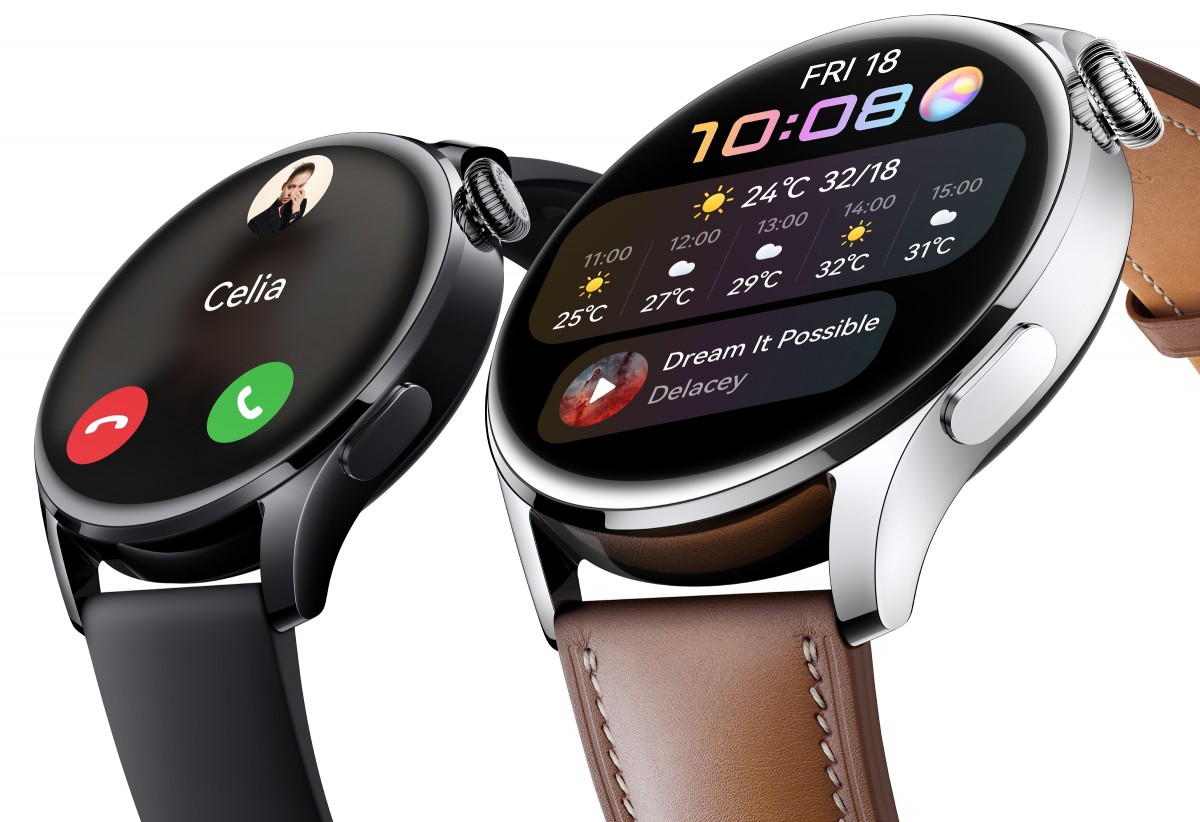 The health features of the Apple Watch Series 8 set it apart from its predecessor and competitors
Other features of Galaxy Watch 5 include Samsung's BioActive sensor (optical heartbeat + heart electrical analysis + bioelectrical impedance analysis), temperature sensor, accelerometer, barometer, gyroscope sensor, geomagnetic sensor, light sensor. Among the mentioned items, the body temperature detection sensor is a new option. Doug Wagner, president of Samsung Electronics America's wearables and accessories division, said the temperature sensor could provide more data to the sleep tracking process. According to him, the addition of this sensor is intended to provide more options to developers in designing new health and wellness features.
Other things offered by the Galaxy Watch 5 family include built-in GPS, optional LTE, Bluetooth 5.2 and Wi-Fi. In addition, this watch has 5ATM and IP68 standards against dust and water.
It should also be noted that the Xiaomi smart watch has features such as It supports sleep tracking, heart rate and blood oxygen monitoring and has NFC for easy payments and Bluetooth calls. Xiaomi Watch S1 can up to 5ATM underwater durability.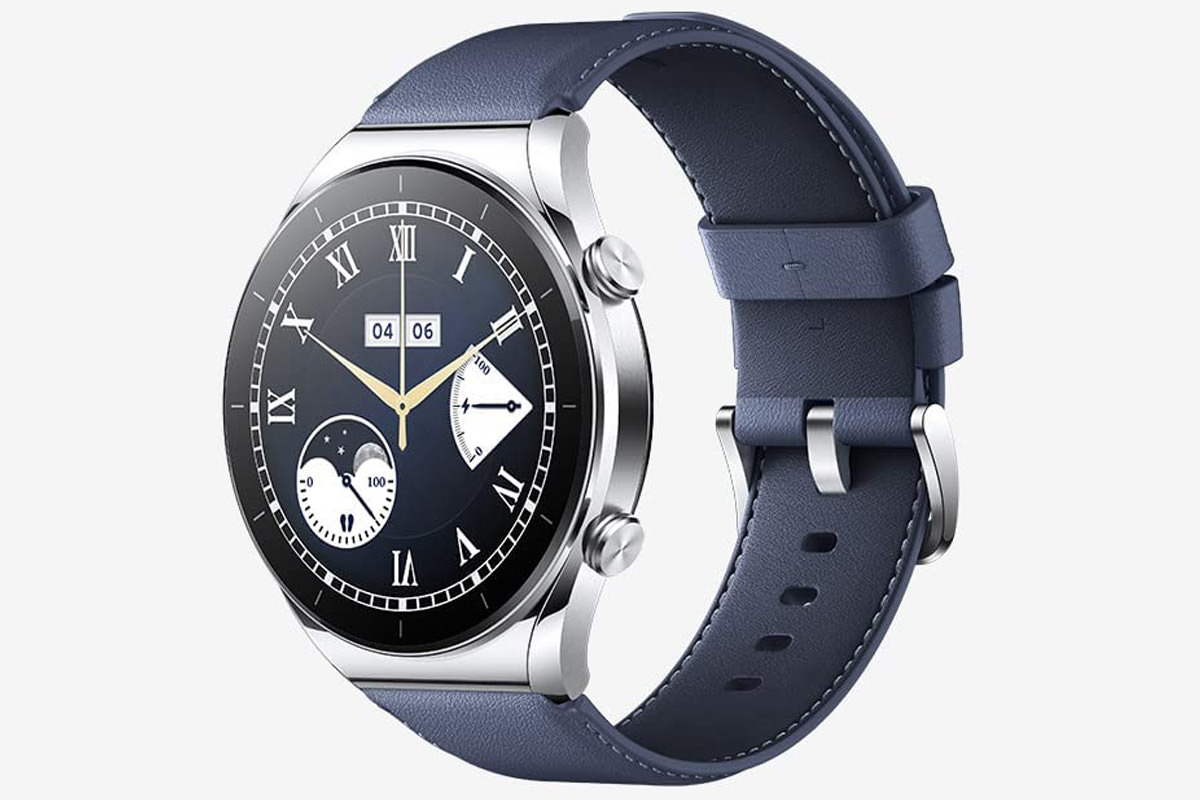 It is possible to use Huawei Watch 3 without the need of another device. In fact, through an electronic SIM card, you can connect to the Internet without the need for a smartphone and download and then install desired applications from the app gallery of the Harmony operating system. If you are interested in sports and recording calories burned with a smart watch, Huawei Watch 3 supports one hundred sports modes, seventeen of which are professional sports training (indoors and outdoors).
Related article:
Price
Apple Watch Series 8 in two covers Aluminum and stainless steel and with four Available in midnight, starlight, silver and red primary colors. The Apple Watch Series 8 GPS and Cellular models will be available at $399 and $499, respectively.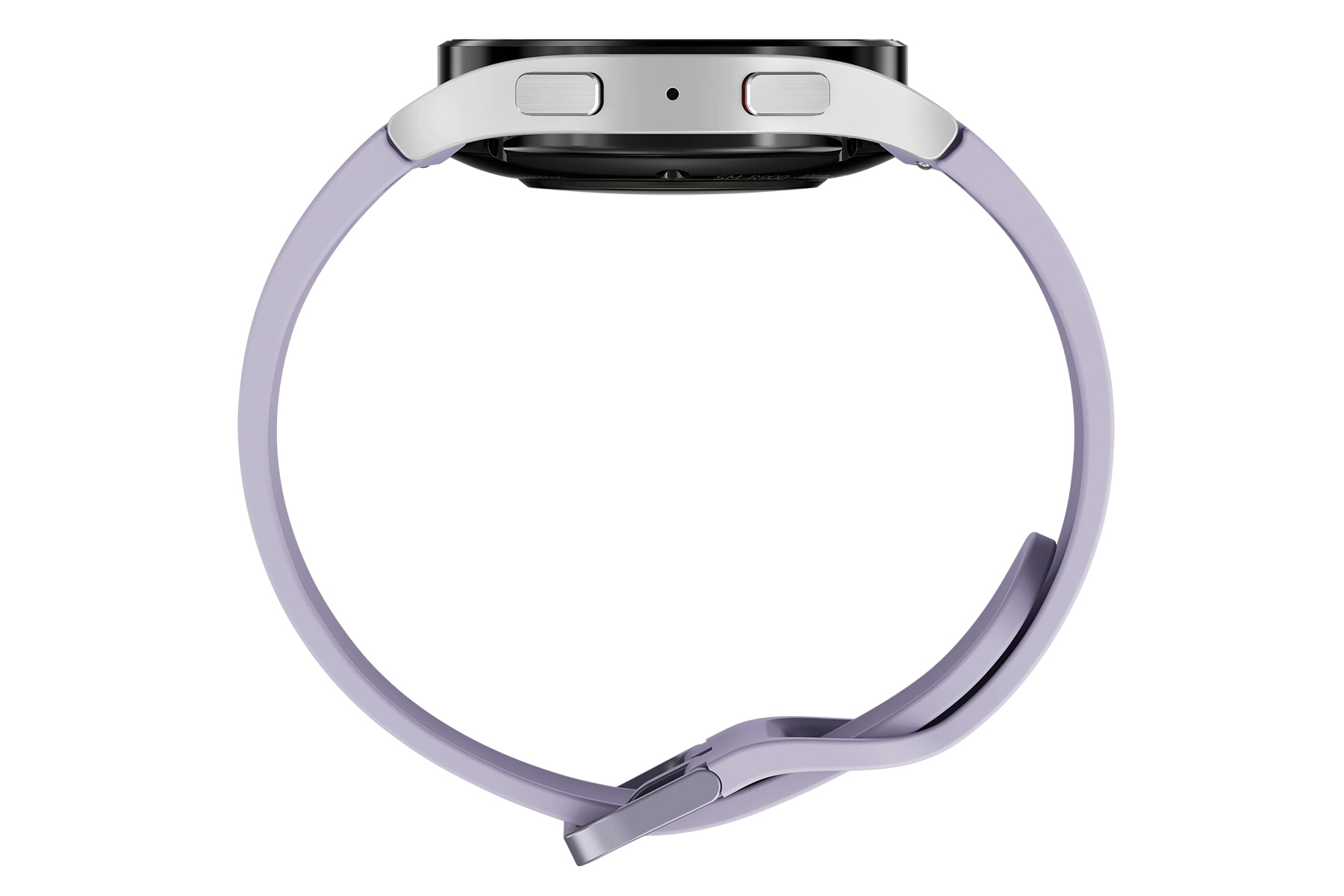 Related article:
The price of the Watch 5 starts at $279.99. You have to spend $50 more to buy LTE versions. This product is sold in graphite, sapphire and silver colors for the large 44 mm version and graphite, gold and silver colors for the small 40 mm version.
The Xiaomi Watch S1 has a price tag of $173. Of course, it should be noted that if you want the leather version of this product, you have to spend $18 more. The smart watch of the Chinese company is available for purchase in two colors, black and silver. The Huawei smart watch is sold in silver and black colors at a price of $200.
***
Below you can see the list of specifications of all four products side by side:
Source link