News
Apple is probably looking to build a collapsible keyboard for future MacBooks
One of the design features of Apple notebooks is that the thickness of the screen and its distance from the chassis is very small, which makes the device beautiful and elegant; But naturally, this subtlety leads to the screen becoming more vulnerable, and usually placing an extra object between the screen and the chassis will leave the screen protector itself or damage the panel. In 2020, Apple had to advise users to avoid sliding the webcam; Because this action causes the screen to crack.
Now the importance of this issue has doubled with the arrival of the new 14- and 16-inch MacBook Pro; Because these notebooks have one of the best displays in their class, damaging them can cost users a lot of money. Fortunately, at least in one of its latest patents, Apple is looking for a solution to increase the distance between the screen and the keyboard.
A patent filed with the U.S. Patent and Trademark Office entitled "Collapsible Keyboard" shows how Apple can use a collapsible keyboard-based keyboard to prevent damage to the display without increasing the thickness of the MacBook. The keyboard can be as comfortable as the current examples and subsequently hold the keys away from the screen when folded; Therefore, it is less likely that the pressure monitor will be damaged by the lesion.
Apple argues that recent advances in computing have made portable devices thinner, lighter, and more efficient. However, mechanical user interfaces in devices have components that are difficult to resize due to user preferences. For example, users expect devices to have a button or key that is deep and sized to fit a finger, and they generally prefer buttons or keys that provide audible and tactile feedback when pressed.
Therefore, user interfaces such as keyboards and other buttons are designed to provide the right size and feedback. In fact, the two components of size and feedback show the difference between good and bad keyboards, and a change in any of these components can make users unhappy. Limitations can lead to larger devices for some applications. Keyboards are also of particular importance for building slimmer devices.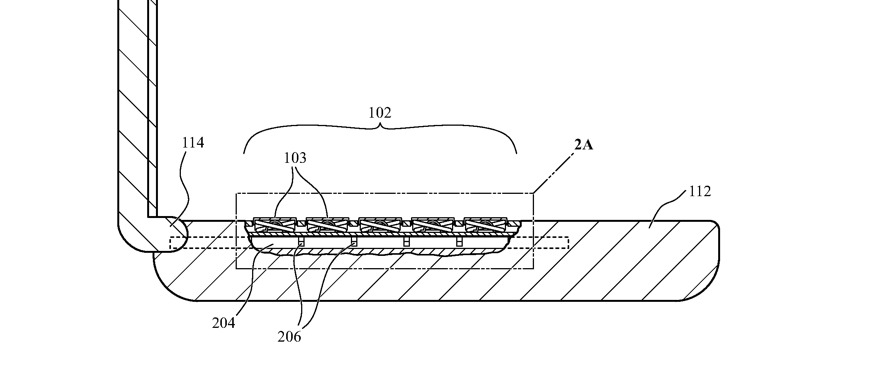 Apple's proposed system is such that users' favorite keyboard can be moved on the MacBook chassis without any changes. Simply put, Apple is looking for a mechanism that shrinks the keyboard when the MacBook door closes. The patent documents state that this movement can be configured with a moving magnetic or mechanical link to relocate switches and stabilizers between different relative positions.
Related article:
Apple is also researching a keyboard that has displays for dynamic content change. The company recently filed a patent that showed how each key mounted on the keyboard could fit into a small display that connects to the keyboard control circuits via a cohesive fiber bundle. Apparently, each key can consist of a fiber-optic display, and requires a small display to work with adaptive content that works with any compatible pixel array.
But in fact, the main technology used in them will be OLED displays. Each key may be made of materials such as glass, ceramic, metal and polymer or even crystalline materials such as sapphire. This system can be used for moving keys; Therefore, Apple can retain its magical keyboard design theory.
***
Apple patents countless inventions every week. Patents represent the topics of interest to the research and development unit of companies; But it does not guarantee that it will be offered in a future product or service. Naturally, this also applies to many patents related to Mac computers.
Source link