News
Apparently, the Bitcoin network consumes less energy than the gaming industry
Currently, the energy consumption of Bitcoin mining is estimated at 100 terawatt hours per year. According to a recent report by Arcane Research, while energy consumption for mining the king of cryptocurrencies has increased significantly, especially in the last few years, this field still accounts for a very small part of global energy consumption.
As mentioned, today, Bitcoin miners operate at a rate of around 100 terawatt hours per year. This number is about 0.06% of the world's total energy needs, which is actually a very small number. Below is a chart showing how Bitcoin mining compares to some of the other energy industries on Earth: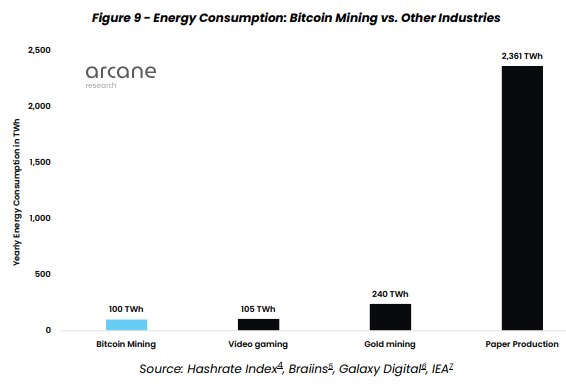 The energy demand of the cryptocurrency mining industry is lower than any other field, and Arcane Research explains how Bitcoin mining could revolutionize the energy industry. As you can see in the graph above, the computer game industry consumes about 105 terawatt hours of electricity per year, which is slightly more than the energy consumption of Bitcoin mining. On the other hand, gold mining requires much more electricity; Because currently, its annual energy consumption is about 240 terawatt hours, which is approximately 2.5 times the consumption of the world's first cryptocurrency network.
Related article:
This graph also includes data related to paper production, which shows that the electricity consumption of this area reaches 2361 terawatt hours per year, which is 10 times that of gold mining and 24 times that of bitcoin mining. Arcane Research's report argues that the method used by Bitcoin miners is different from other industries. written by BitcoinistThere are five main points that make the type of energy used by Bitcoin miners unique:
About 80% of the mining operation costs of this cryptocurrency are provided only through electricity. This means that miners have a strong incentive to work with the least amount of energy possible or to go to areas where the price of electricity is lower.
Mining is a form of location. Miners can set up their facilities almost anywhere; Therefore, for reasons such as location restrictions, other industries use energy sources that other companies do not use.
Bitcoin miners can turn their machines on or off at any time. They can even adjust their energy consumption watt by watt. Arcane Reasearch reports that this feature makes mining a very suitable tool for demand response; A process that can help improve the strength and stability of power grids.
You can stack any number of individual AISC machines together; Therefore, miners can increase their facilities exactly based on the amount of energy available. This shows that miners can take advantage of all the extra energy from electricity projects.
Bitcoin mining equipment is very portable; Hence, miners can easily move to other locations. It should be noted that at the moment of writing this article, the value of each Bitcoin unit has reached $19,800 with a fall of 2-3% compared to last week.
Source link