News
An overview of phones and tablets equipped with Intel processors; What devices did Intel's mobile chips turn into nostalgia?
While ARM and Qualcomm have launched amazing GPUs, we hope that Nvidia will also return to the smartphone chip market or at least license the design of GPUs.
If AMD can make a successful comeback, why can't Nvidia? However, Nvidia is not the only manufacturer that was forced to abandon the production of mobile graphics processors; Texas Instruments was also a company that had gained a lot of fame in the field of mobile processor production in recent years.
However, in this article, we are not going to talk about Nvidia or Texas Instruments; Rather, our goal is to examine Intel's mobile processors with a continuous history. This company is still the leader in the market of computer, laptop and server processors in the world. Intel's history in the field of mobile processor production is not as brilliant as the two mentioned companies; Although the company had a successful start starting with ARM processors.

Initially, Intel certified the ARMv5 instruction set and created the Xscale microarchitecture based on it. The first Intel chips PXA210 And PXA250 At clock speed 200 and 400 MHz to be used in PDAor personal digital assistants were designed and were considered to be the same as today's smartphones without the ability to talk.
Intel PDAwas aimed at professionals, which in 2002, pocket devices with the ability to decode and play movies and files mp3 They were They use features like wireless connection. Some of the interesting specifications of the said chips can be seen below:
Price

PXA210

And

PXA250

In 2002, it was 17 and 39.20 dollars, respectively.
Energy consumption

PXA250

At the speed of 200 and 300 MHz, it was 256 and 411 mW, respectively.

PXA250

It had an average size of 17 x 17 mm and 256 pins; but

PXA210

By replacing the 16-bit data bus with 32-bit, the number of pins was reduced to 225.
chip PXA250 In phones like i700 Samsung was used, which also benefited from 2G cellular connection with GPRS internet. The Samsung i700 had a 240 x 320 pixel resistive touch screen and a VGA camera and memory slot. MMC It was equipped and edited Phone It used Windows Pocket PC 2003 operating system.
Samsung's i300 device is one of the interesting ones that uses Windows Mobile 2003 SE, despite having little resemblance to PDAs. The i300 was a big, chunky 20mm-thick device, with 3GB of microdrive storage, which was rare at the time.
The i750 model was also similar to the phones; But unlike the i300, it was also equipped with a 2.6-inch resistive touch screen. While the sliding design of this device allowed the keyboard to be hidden, the front of the phone was adorned with a large number of hardware keys. The i750 was 22mm thicker than the i300; But it didn't use MicroDrive memory and instead, it supported the new Micro SD memory.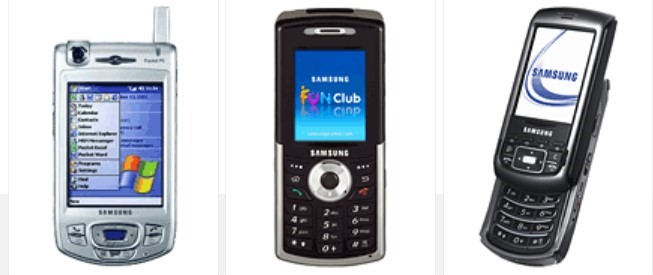 Samsung i750 Samsung i300 Samsung i700
Motorola also had innovative designs in that period. The A1200 model was pretty much standard, using a transparent, flip-up protective cover to protect the touch screen from bumps and accidental touches. The said screen was 2.4 inches smaller than the i750.
Motorola Q8, imitating Blackberry, used a full physical keyboard under its 2.4-inch horizontal display. Also, Motorola released flip phones like the A910, which may not have been as good as the Razr; But by using a Linux-based operating system and not following Microsoft's hegemony, it brought an interesting innovation. E680 was also considered as a better example of Linux-based phones.

Motorola E680 Motorola A910 Motorola Q8 Motorola A1200
O2 XDA devices are another example from the list of Intelli devices. For example, the O2 XDA II had a large 3.5-inch display with a typical resolution of 240 x 320 pixels. Also, we can mention the i-mate PDA2, which seems to be a standard and decent device. However, the title of strangest design should be assigned to the Qtek 9000 with its laptop-like appearance. The interesting point is that not only did the aforementioned devices all use XScale chips; But all of them were made by HTC.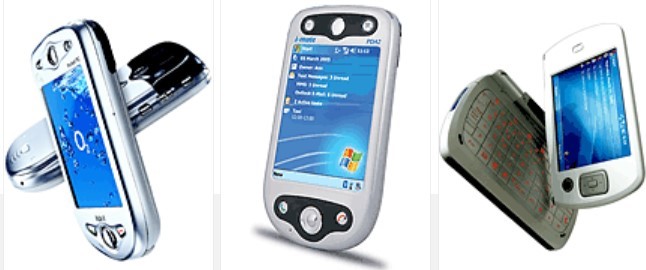 O2 XDA II | i-mate PDA2 | Qtek 9000
Blackberry also used XScale chips, which were used in popular models such as BB Pearl 8100, Pearl Flip 8220 and Curve 8300.

BlackBerry Curve 8300 | Blackberry Pearl Flip 8220 | Blackberry Pearl 8100
Palm was one of the other companies that used XScale chips, most of which had the company's proprietary operating system called PalmOS. However, the company also launched Windows Mobile devices such as the Treo 500v.

Palm Center | Palm Treo 500v | Palm Treo 650 | Palm Treo 680
Finally, in 2006, just four years after its birth, XScale was sold to Marvell, ending Intel's adventure with ARM. Now we want to talk about what you have been waiting for since the beginning of this article: Android phones that used Intel Atom chips.
Motorola was among the first companies to use Atom chips in devices like the RAZR i in 2012. The said device had an Atom Z2460 processor with a single x86 core and a PowerVr 544MP2 GPU. Intel's Z2460 processor used hyperthreading technology for two 2 GHz hardware threads and was considered among the 32-bit models.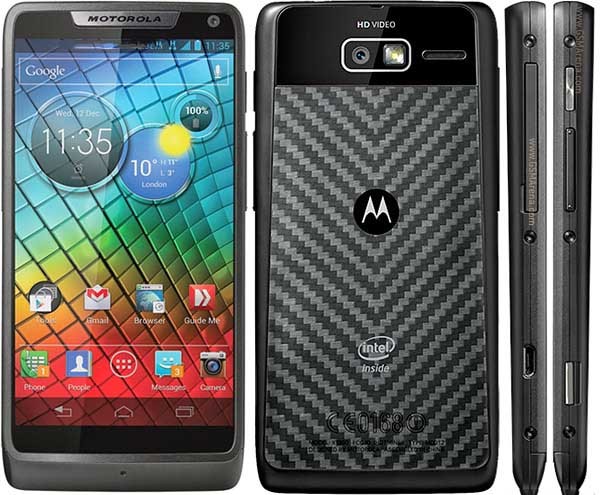 Motorola RAZR i XT890
However, the aforementioned specifications were considered quite normal; Because Intel processors were designed for large devices with active cooling systems, it was challenging to include them in a practical smartphone form factor. This company was only able to put one and later two processing cores in them; But they were also very fast and their single-core processing performance was among the best at that time.
However, since it was only possible to use two cores, their multi-core performance was somewhat weaker than ARM's quad-core design that was first released in 2012. Although the Atom supported hyperthreading technology and each processor could run two hardware threads simultaneously, the performance was not as good as having two true separate cores. Two years later, Asus used the same generation of Atom processors in the first ZenPhones, which used improved 32nm models in the 2013 Z2500 series.
Asus Zenfone 6 A600CG | Asus Zenfone 5 A500CG | Asus Zenfone 4
The next generation of Atom chips from the Z3000 series were equipped with four cores, which could be said to have been possible thanks to the migration to 92nm. The aforementioned chips were used in devices such as Zenfone 2 Deluxe and Asus Zenfone Zoom ZX550. It should be noted that the Zoom model uses a 28-84 mm periscopic telephoto lens with unparalleled magnification. This technology was absent for several years; But now it is emerging again.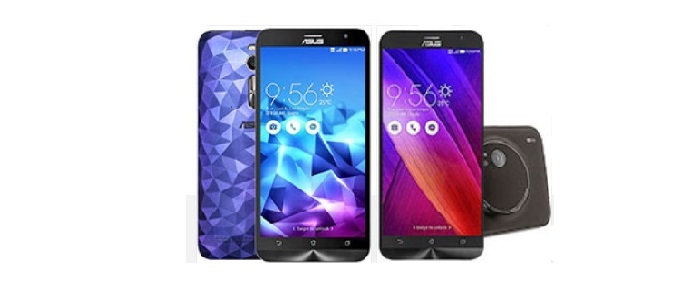 Asus Zenfone Zoom ZX550 Asus Zenfone 2 Deluxe ZE551ML
Also, Intel chips were used in the Asus Padphone convertible series, which allows for connection to a tablet dock to take advantage of a larger screen. One of them was the PhonePad 7 device, which was considered a tablet with the same features as a phone; But unlike Padphone, it was not possible to convert. However, the Transformer Pad device could be converted into an Android laptop.

Asus Transformer Pad TF103C Asus Fonepad 7 | Asus PadFone mini 4G | Asus PadFone mini
Dell was also not without convertible devices and launched models like the Venue 10 7000. The thick and cylindrical side part of this device made it possible to connect it to the keyboard dock. The smaller Venue 8 7000 was designed for stand-alone use; But this device also had an unusual design with a huge speaker. The said devices were interesting models that came after the regular Venue 7 and Venue 8.

Del Venue 8 | Del Venue 7 | Del Venue 8 7000 | Del Venue 10 7000
In 2015, Acer introduced the Predator 8 tablet, which, as its design suggests, was considered a gaming device. This tablet used the Atom x7-Z8700 processor, which has four processing cores without hyperthreading and was accompanied by an Intel graphics processor. Also, at that time, devices like Lenovo's Yoga Tablet 2 became very popular, which were very suitable for multimedia use with their mobile stand and powerful speakers.

Acer Predator 8 | Lenovo Yoga Tablet 2 10.1
Another interesting Intel device of that era was the Nokia N1 tablet, which, unlike its usual appearance, had a very special feature, and it was produced by Microsoft after the acquisition of Nokia. The mentioned device used the Android operating system, which may seem a little strange; But Microsoft started using Android in Nokia X series phones months ago.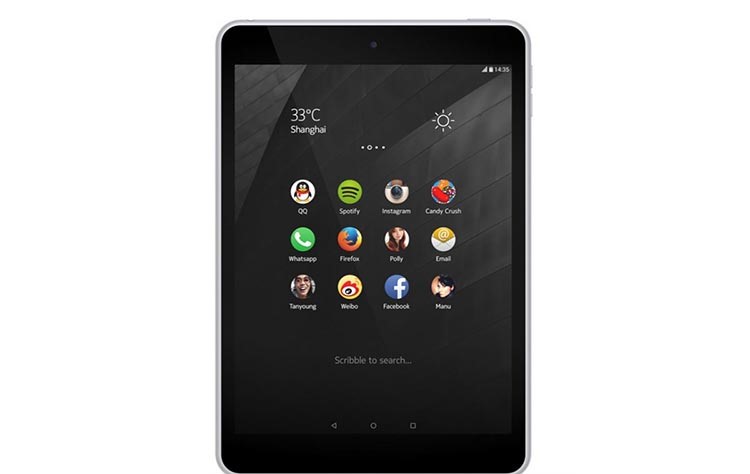 Nokia N1
The combination of Intel processors and Microsoft Windows is so common that it has been given the nickname "Wintel"; But why was there not much news about Windows tablets with Intel processors? Microsoft was trying to reduce its dependence on Intel and x86 processors; As a result, it developed Windows RT with ARM technology, which led to devices such as the Nokia Lumia 2520.
However, a number of Windows tablets with Atom processors were also launched on the market; Because Allview didn't want its Windows device to rely only on ARM. One of the production devices of this company was convertible and used Windows 10, which was much more logical than the idea of ​​Asus Android laptop with Android 4.4 version. Allview also produced a KitKat tablet named Viva i10G; But not as a convertible product.

Allview Wi8G Allview Wi10N PRO | Allview Viva i10G
After that, many tablets with Atom processor were launched in the market and companies like Xiaomi, Samsung, HP, Micromax and others each had a share in this field.

Xiaomi Mi Pad 2 | Samsung Galaxy Tab 3 10.1 P5210 | HP Pro Slate 10 EE G1 | Micromax Canvas Tab P690
However, one device that was never expected to feature an Intel chip was the Tag Heuer Connected Modular 45 smartwatch, which at $1,200 for the 41mm model is quite expensive. The said watch had a titanium frame and ceramic bezels about 1.39 inches and had an AMOLED display with a ruby ​​protector. The interesting point was the use of Atom Z3000 chip in this watch with Android Wear OS 2.1 operating system. Needless to say, the mentioned price was related to the basic model and there were even models with a 6-figure price!
Tag Heuer Connected Modular 45
The last device we want to mention is the lovely Nokia 9000 Communicator. Technically, this craft was not equipped with an Intel chip; But it used AMD's 486 chip with a clock of 33 MHz.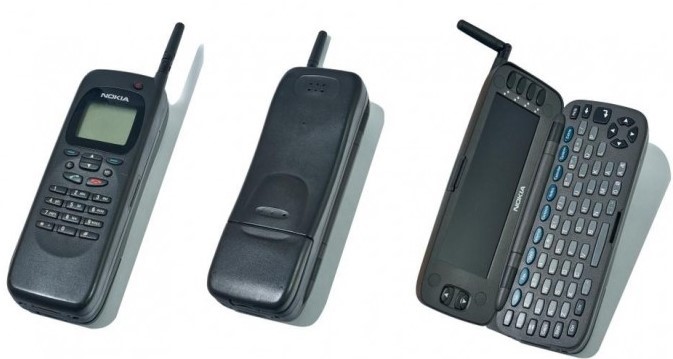 Nokia 9000 Communicator
As you know, Intel's luck in the mobile chip market ended in 2014 and 2015, and we didn't see Intel chips being used in portable devices except for the odd and unknown device. Finally, Intel stopped producing chips for smartphones and tablets, and other manufacturers took the burden of this company. However, Intel still maintained its modem division until 2019, when it was finally handed over to Apple.
Although Intel now has no middle ground with the mobile chip market, it has recently found more problems to worry about. Now the progress of this company has stopped and it has given the lead to TSMC. It's true that Android still supports x86; But in practice, there is no trace of it in new devices. Windows 11 can run Android applications; Even though they are designed for ARM devices, this feature is also made possible by emulation with Intel Bridge technology.
Source link