News
An in-depth look at Qualcomm's Snapdragon 8 Gen 2; The most advanced chip in the Android world
Qualcomm, after a long wait, Thursday morning Tehran time in a processor ceremony Introduced Snapdragon 8 Gen 2 for smartphones. Snapdragon 8 Gen 2, which is based on the Snapdragon 8 Gen 1 platform, is Qualcomm's latest flagship class processor and will be used in high-end phones in 2023.
Based on the writing Android AuthorityQualcomm's latest high-end processor makes significant changes to the arrangement of CPU clusters, is equipped with a GPU unit with ray tracing support, and offers high-end audio capabilities.
Comparison of Snapdragon 8 Gen 2 with Snapdragon 8 Gen 1
–
Snapdragon 8 Gen 2
Snapdragon 8 Gen 1
central processing unit (CPU)

1 Cortex-X3 core with a frequency of 3.19 GHz

2 cores Cortex-A715 with a frequency of 2.8 GHz

2 C coresortex-A710 with a frequency of 2.8 GHz

3 Cortex-A510 cores with a frequency of 2.0 GHz

1 core Cortex-X2 with a frequency of 3.0 GHz

3 Cortex-A710 cores with a frequency of 2.5 GHz

4 Cortex-A510 cores with a frequency of 1.8 GHz

graphics processor (GPU)

Adreno 740 with ray tracing support

Adreno 730

Digital Signal Processor (DSP)
Hexagon with support

INT8 and INT16 and INT4

Hexagon with INT8 and INT16 support
RAM supported

LPDDR5X

LPDDR5

Camera under support

200 megapixels

200 megapixels
filming

8K/30fps in HDR mode

8K/30fps in HDR mode
Play video

8K/60fps

Decoder AV1 and H.265 and VP9

8K

Decoder H.265 and VP9

charge

Quick Charge 5

Quick Charge 5
modem
X70 LTE/5G with download speed of 10 Gbps and upload speed of 3.5 Gbps
X65 LTE/5G with download speed of 10 Gbps and upload speed of 3 Gbps
connections

Bluetooth 5.3 and Wi-Fi 7

Bluetooth 5.2 and Wi-Fi 6E

Lithography

4 nm TSMC

Samsung 4 nm
---
New arrangement of CPU cores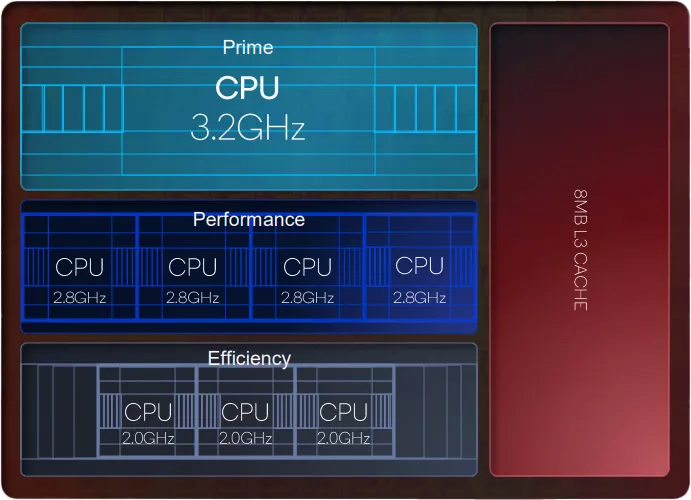 One of the most important changes applied in Snapdragon 8 Gen 2 is changing the arrangement of CPU clusters from 4+3+1 to 3+4+1. Qualcomm has decided to use two different CPU cores in the middle and main cluster, which includes two new Arm Cortex-A715 cores and two old Cortex-A710 cores. This design style raises the score of Qualcomm's new processor in multi-core benchmarks.
According to Qualcomm, the reason for using two types of Arm Cortex-A715 and Cortex-A710 cores is to support old applications. Cortex-A710 is the latest ARM core that supports 32-bit applications (AArch32). All cores made after Cortex-A710 are of 64-bit type (AAarch64).
The Snapdragon 8 Gen 2 processor uses improved Cortex-A510 cores as its low-power cores. These cores consume five percent less energy. Qualcomm did not explicitly say whether the Cortex-A510 also supports AArch32, but it seems that this architecture is only supported by the Cortex-A710 cores.
Snapdragon 8 Gen 2 support for 32-bit applications does not have a special effect on most users, because with the strictures of the last few years, all important applications are now 64-bit. Google has forced all developers to build 64-bit applications since years ago.
Cortex-X3 is the most powerful core used in the CPU unit of the new Snapdragon processor. Qualcomm claims that its new flagship has 35% more power and 40% less energy consumption. Considering the reduction of an underpowered core, delivering such performance is quite impressive.
Snapdragon 8 Gen 2 uses TSMC's 4nm lithography. Qualcomm used to cooperate with Samsung, but the low efficiency of Samsung's production line finally made the Snapdragon chip maker go to TSMC. Earlier TSMC lithography was used in Snapdragon 8 Plus Gen 1.
–
The main cluster
Middle cluster
Low consumption cluster
CPU core type
1 core

Arm Cortex-X3

2 cores Arm Cortex-A715

2 cores Arm Cortex-A715

3 cores

Arm Cortex-A510

clock speed
3.19 GHz
2.8 GHz
2.0 GHz
L1 cache
?
?
?
L2 cache
1 MB
?
?
L3 cache
8 MB (shared)
8 MB (shared)
8 MB (shared)
Support for 32-bit or 64-bit applications
64 bit only
32-bit and 64-bit
64 bit only
The table above provides general details about the CPU unit in Qualcomm's new system-on-chip. We still don't have access to the full cache information, however, Qualcomm has confirmed the use of a high-capacity L3 shared cache. While the L3 cache of the previous generation was 6 MB, Snapdragon 8 Gen 2 has eight MB of L3 cache. Thanks to the increased L3 cache and the addition of an intermediate core to the CPU, the new Snapdragon is likely to perform very well in heavy multi-threaded processing.
Ray tracing in the mobile world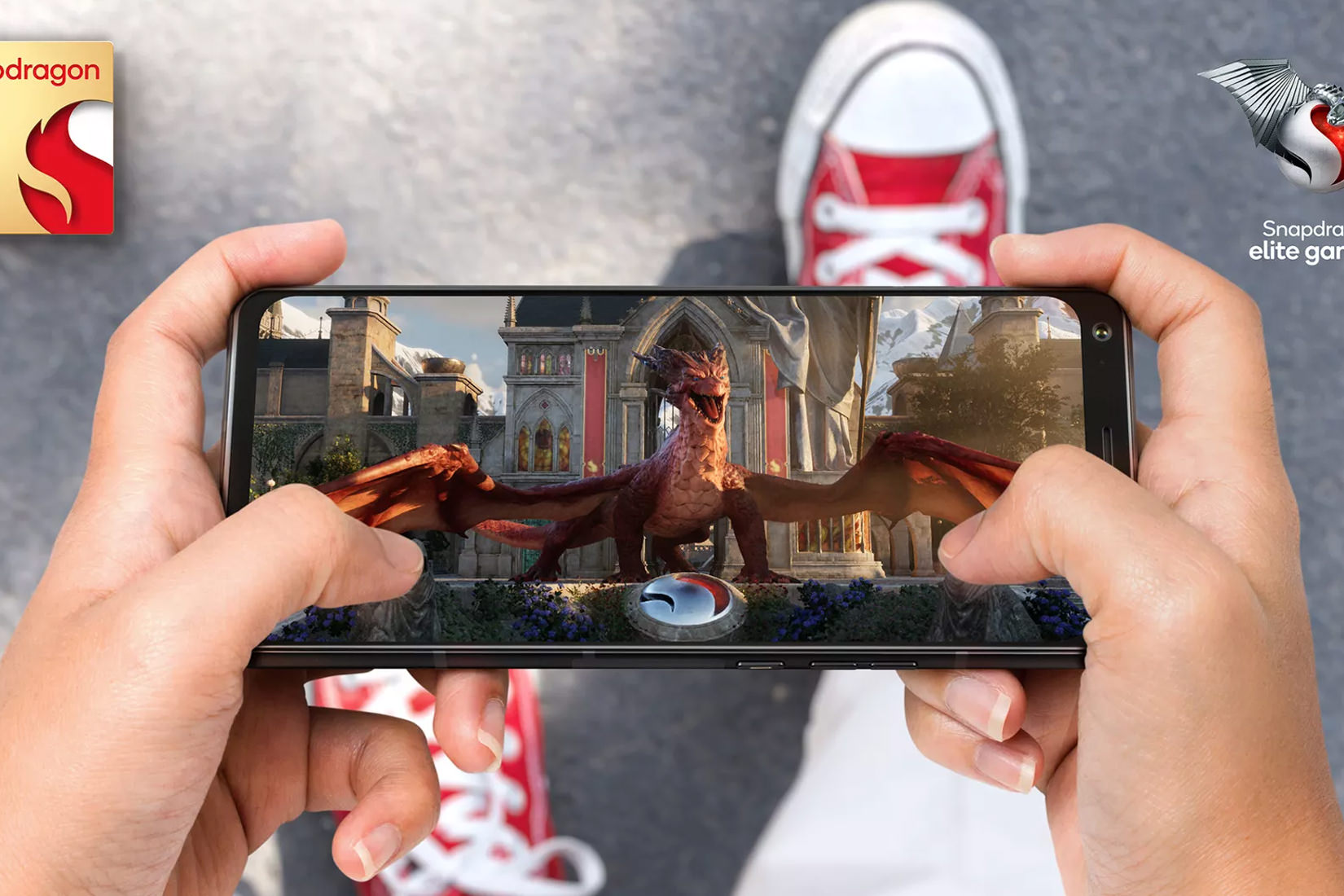 One of the most important changes in the new generation of Snapdragon is the hardware support for ray tracing technology. Ray tracing is a rendering technique that models the behavior of light as it hits objects in real time in the scene.
Qualcomm is not the first company to offer such a feature in mobile processors. AMD Xclipse graphics chip in Samsung Exynos 2200 and Arm Immortalis-G715 in Mediatek Dimensity 9200 also support ray tracing in hardware. The difference is that Qualcomm processors are used in a larger number of phones, which ultimately encourages developers to make mobile games based on ray tracing.
Unfortunately, Qualcomm doesn't give exact and technical details of the Adreno graphics unit, however, we know that the Snapdragon 8 Gen 2 processes the intersection of rays and renders them very realistically thanks to BVH. Snapdragon 8 Gen 2 seems to support ray tracing better than any other mobile chip. For example, the logo graphics unit does not use BVH. Qualcomm has not yet said how powerful the Snapdragon 8 Gen 2 graphics accelerator is. Despite all the claims, don't expect the ray tracing in the Qualcomm chip to perform as well as in consoles and PCs.
Oppo, which packs a Snapdragon 8 Gen 2 processor into the new Find X series phone, says its open-source PhysRay engine boosts ray tracing rendering efficiency by five times and reduces CPU workload by 90 percent. Oppo claims the Snapdragon 8 Gen 2 will run the game at 720p resolution and 60fps frame rate for 30 minutes continuously with ray tracing on.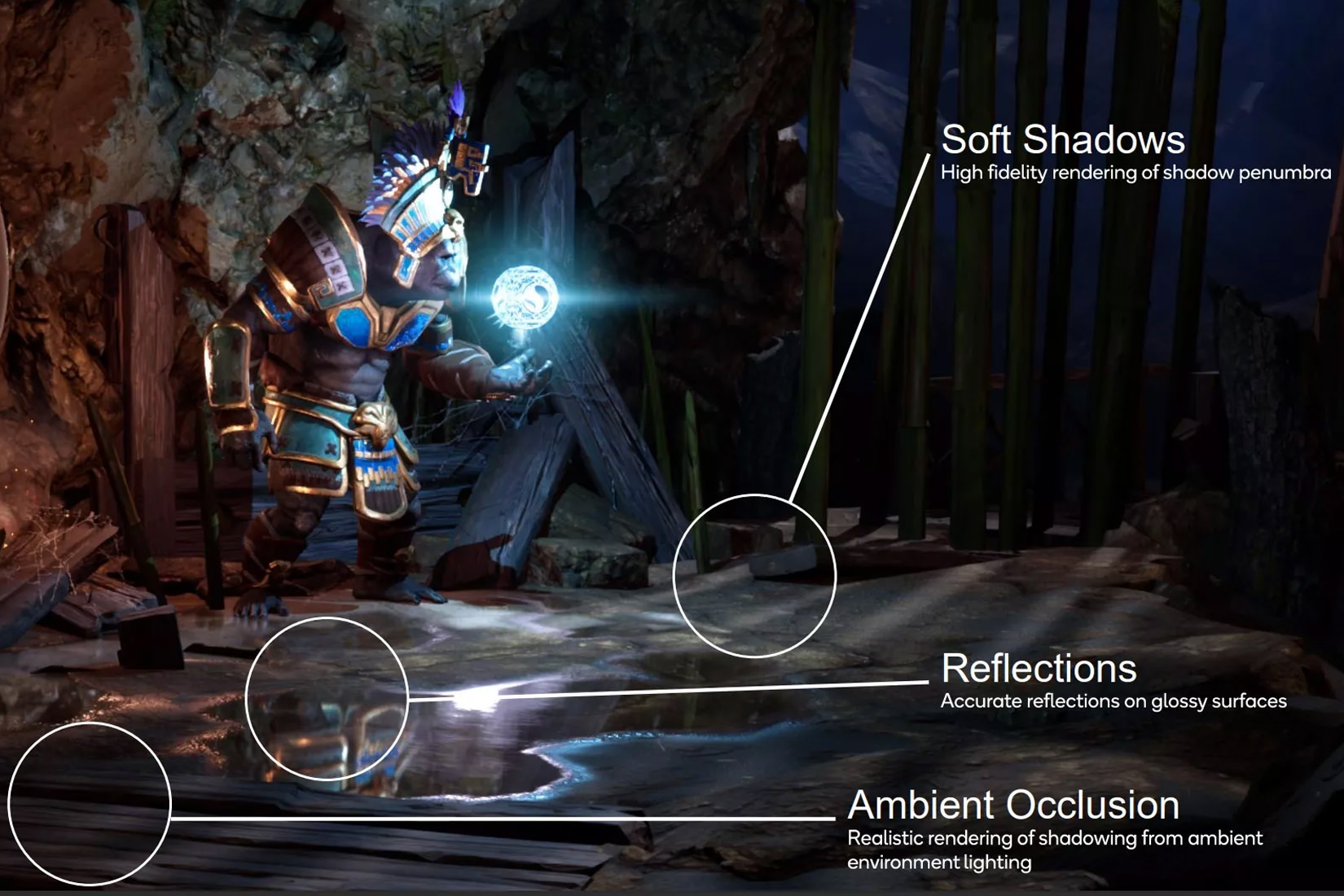 Qualcomm says the graphics unit in the Snapdragon 8 Gen 2 improves shadow rendering, light reflections, ambient occlusion and general lighting in Vulkan-based Android games. According to Qualcomm, such improvements cannot be achieved by relying on software. Qualcomm expects major mobile games to be equipped with ray tracing as early as 2023.
The latest Adreno graphics series has 25% more power and 45% less energy consumption compared to the previous generation. This graphics unit supports Vulkan 1.3 interface and offers 30% more improvement in some specific scenarios. Qualcomm is the first company to make graphics supported by the Metahumans framework of Unreal Engine 5. Support for Adaptive HDR, HDR Vivid, HDR10+ and Dolby Vision shows that the new Snapdragon processor has a lot of power to run mobile games.
Increasing image quality with artificial intelligence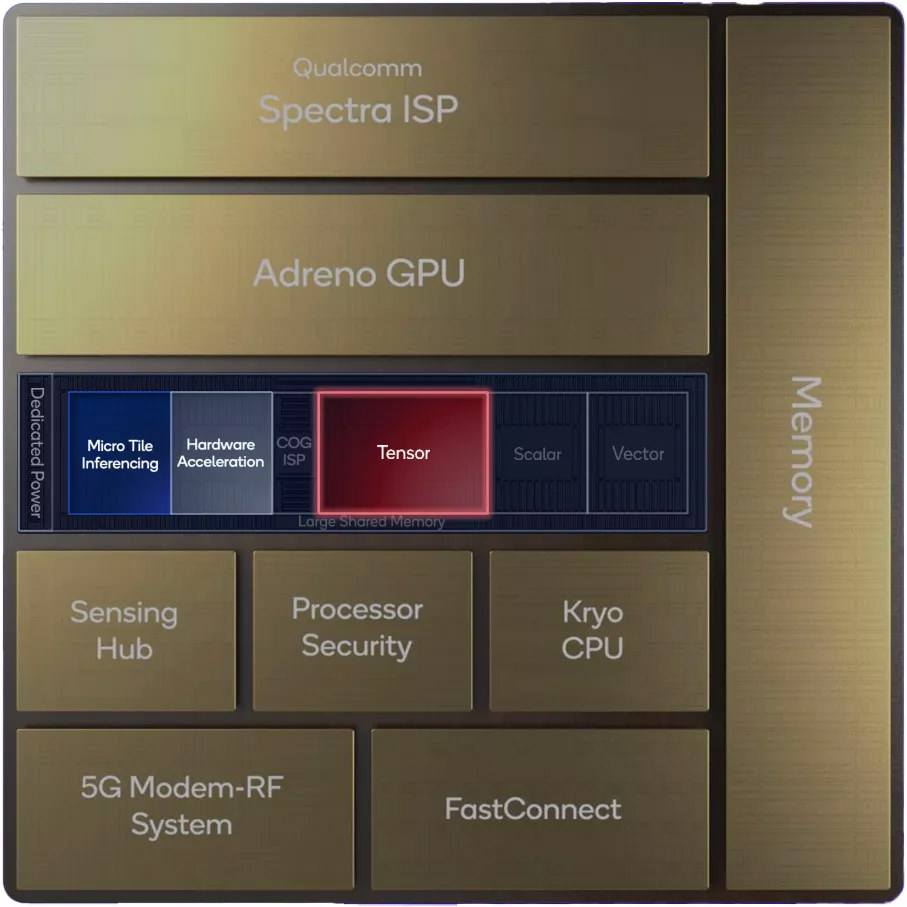 Qualcomm has paid special attention to imaging capabilities in recent years, and the new generation Snapdragon improves image quality in a similar way. Qualcomm says The new Hexagon Series DSP has an independent power delivery system, and in some AI models, its performance per watt is 60% better.
Accelerator Tensor inside the DSP unit is twice as big as the previous generation to improve its performance. This accelerator has undergone special optimizations focusing on language processing. Qualcomm also announces support for the inference of small processing tiles. In this system, chips dedicated to imaging and other parts are divided into smaller tiles to increase processing accuracy. The addition of INT4 means that developers can implement bandwidth-intensive machine learning problems into their applications.
The Hexagon unit in the Snapdragon 8 Gen 2 processor is up to 4.35 times more powerful than the previous generation. This improvement seems admirable at first glance, but the more interesting point is the use of the Hexagon Direct Link system. This system connects the ISP unit to the AI ​​engine. Qualcomm calls this new ISP unit Cognitive ISP.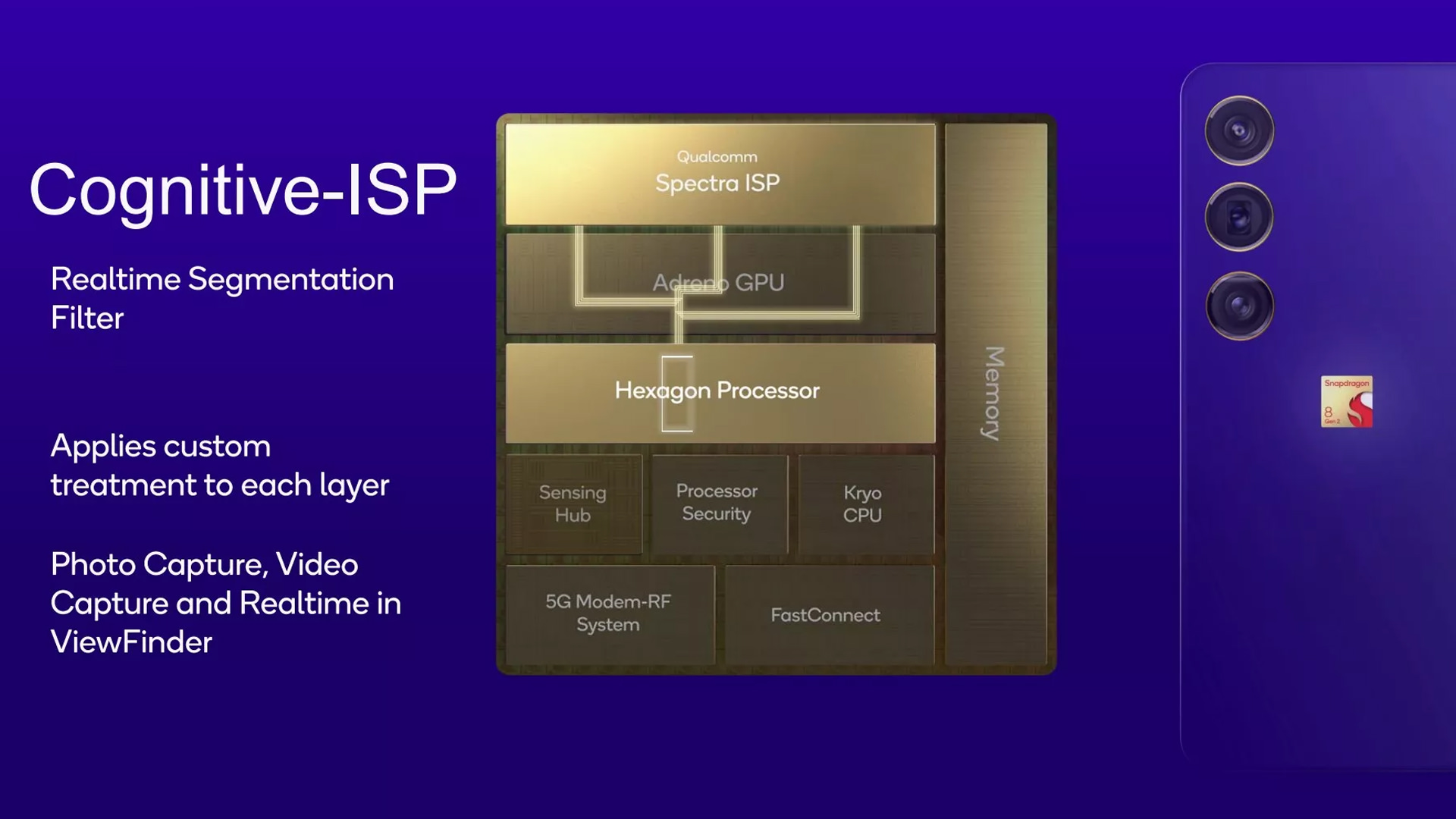 Qualcomm has deepened the physical connection between ISP and DSP and Adreno to increase bandwidth and reduce latency. This allows the Snapdragon 8 Gen 2 to perform heavy machine learning processing through the image sensor. Qualcomm sends the RAW data directly to the DSP or AI engine. Through its new system, Qualcomm can upscale low-resolution games to put less pressure on the GPU.
Qualcomm often uses Hexagon Direct Link for image segmentation and processing. In other words, this system is used to identify the main elements of each scene, such as facial features, sky plants, etc., and based on these elements, it creates layers in real time and then improves their quality by applying custom processing on these layers. The interesting thing is that all the processing happens before the shutter button is pressed.
In recent years, Qualcomm has tried to bring various machine learning-based capabilities such as face recognition and video bokeh segmentation closer to the ISP unit. Qualcomm did very well in the field of image segmentation in the last generation. In the previous generation, the imaging data was transferred into the main memory, and for this reason, the segmentation was done after the image was recorded. Qualcomm has simplified the implementation of complex real-time processing on the AI ​​engine by making changes to the chip.
The latest communication technologies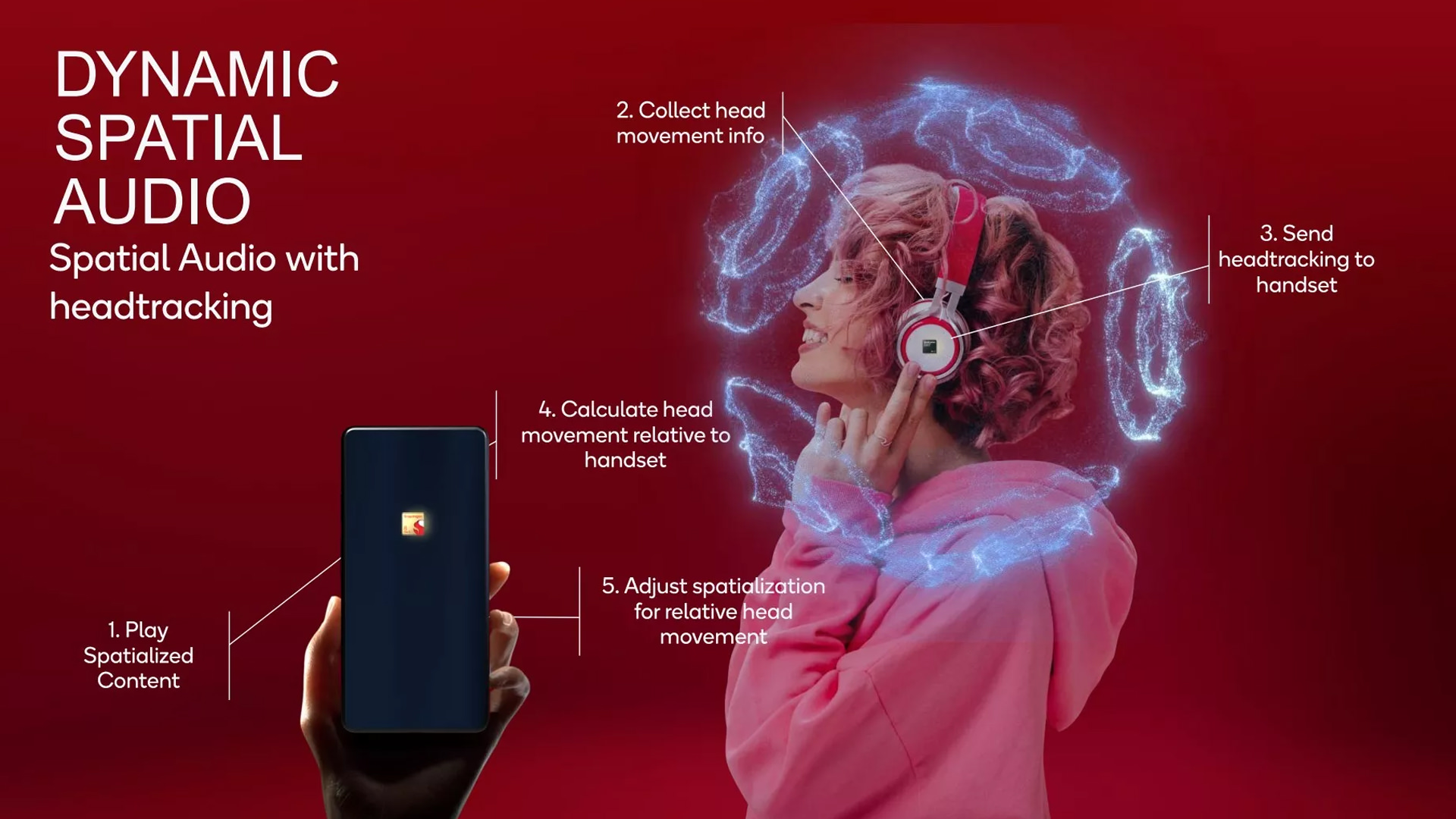 Qualcomm says its new flagship processor from the standard Supports Dynamic Spatial Audio. When using headphones, by turning your head, you will notice that the sound is heard in a particular area and does not move steadily with your head. Headphones that support this feature can track the movement of the user's head. This technology is compatible with most multichannel surround sound formats and decoders such as Dolby Atmos and Sony 360 Reality Audio.
Qualcomm says that the aptX Lossless codec will now also work in Bluetooth Classic and LE Audio mode, so that new products can play higher-quality sounds in addition to reducing energy consumption. On supported headsets, the wireless connection latency reaches only 48 milliseconds, which is 47% less than the previous generation.
The Snapdragon 8 Gen 2 processor uses the integrated Snapdragon X70 modem, which achieves download speeds of 10 Gbps and upload speeds of 3.5 Gbps. This modem performs a series of processes with artificial intelligence. Qualcomm says the artificial intelligence improves the throughput and connection stability of the X70 modem on both versions of the 5G network. The modem in question supports dual 5G simultaneous connection in two SIM cards. Thus, while talking with one of the SIM cards, you can still receive messages and data on the other SIM card.
One of the most important new features of the Snapdragon 8 Gen 2 processor is Wi-Fi 7 support. This processor also supports Wi-Fi 6 and Wi-Fi 6E. Wi-Fi 7 specifications have yet to be officially finalized, but Qualcomm says its chip will deliver speeds of up to 5.8 Gbps over a 320 MHz channel. Wi-Fi 7 support comes with a latency of just two milliseconds. Qualcomm says this feature is very useful for supporting cloud-based gaming. To take advantage of Wi-Fi 7, you'll need to buy one of the more expensive new routers.
Other important specifications of Qualcomm Snapdragon 8 2nd generation
Qualcomm says the Snapdragon 8 Gen 2 is the company's first chip with AV1 support and the ability to play 8K/60fps video. All high-end chips used in new Android phones support AV1 decoding. Qualcomm also announces an increase in the range of Bluetooth and the increase in the speed of pairing devices.
Related article:
Snapdragon 8 Gen 2 supports the latest image sensors such as Samsung's 200MP HP3 sensor and Sony's IMX800 and IMX989. Qualcomm says the new generation of Sensing Hub has two artificial intelligence processors and offers more power than the previous generation.
Asus, Honor, Aiko, Motorola, Meizu, Nubia, OnePlus, Oppo, Redmi, Redmi, Sharp, Sony, Vivo, Xiaomi and ZTE are working on Snapdragon 8 Gen 2 powered devices. As usual, Samsung is not on Qualcomm's list, but there is no doubt that the Galaxy S23 series phones will be powered by Snapdragon 8 Gen 2.
Source link