News
According to a Washington Post poll, users trust Google and Amazon more in protecting their personal data than Apple
According to a poll published by the Washington Post, companies such as Google and Amazon are less worried about Apple than most people with the data they have at their disposal. Facebook, TickTock and Instagram are also among the companies in the survey that the general public does not trust at all.
The survey asked more than 1,000 Internet users in the United States how many companies, such as Facebook, TickTock, Instagram, WhatsApp, YouTube, Google, Microsoft, Apple and Amazon, were responsible for managing user data and activity and browsing history. They trust. Participants were asked to rate their confidence with quality criteria of "very high", "relatively high", "relatively low" and "no amount". In addition, users could reply that they had no comment on a particular case.
Eighteen percent of those polled said they trusted Apple "too much", more than the 14 percent of Google and Amazon. Nevertheless, 39% of users "relatively much" trust Amazon, 34% "relatively much" trust Google, and only 26% of respondents trust "relatively much" Apple.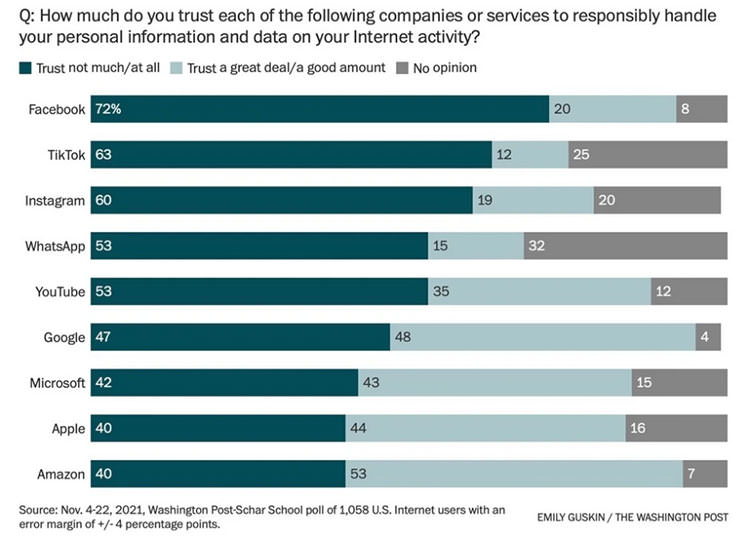 It goes without saying that this website considers the first two answers, "very much" and "relatively much" as a positive answer, and "relatively little" and "no value" as a negative answer. Therefore, in the final evaluation, positive and negative answers are the criteria.
Most users have no confidence in Facebook in terms of their personal data
With positive responses, Apple scores 44%; But after Amazon with 53% and Google with 48%, it is in third place. After Apple, Microsoft, YouTube and Facebook are ranked fourth to sixth with 43%, 35% and 20%, respectively. Instagram, WhatsApp and TickTook also ranked seventh, eighth and ninth with 19, 15 and 12 percent, respectively.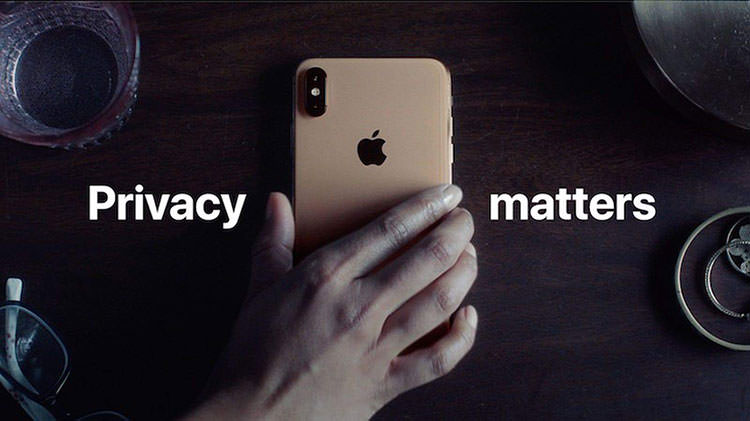 Also, by examining the negative responses, we find that Facebook is the worst company in the protection of personal data from 72% of users, followed by TickTock, Instagram, WhatsApp and YouTube (jointly), Google, Microsoft and Apple and Amazon (jointly). 63, 60, 53, 47, 42 and 40% are in the next positions.
More than 70% of users have a negative attitude towards targeted advertising
The survey shows that 82% of respondents find targeted online advertising annoying, 74% call it offensive, and only 27% find such advertising useful. Also, 62% of iOS users use Apple's App Tracking Transparency feature to avoid tracking when browsing websites and using apps.
The ability to track users allows third-party companies to display targeted ad-based browsing data based on users' activities on the web and applications; What they can not do if the tracking is blocked.
Related article:
Nevertheless, 38% of iOS users allow apps to track; Because, in their opinion, the possibility of tracking makes it easier for them to find the product or service they are looking for through targeted advertising; But does this feature really work?
Eric Suffer, One of the experts in marketing strategies, said:
Any user who disables the tracking feature is no different in terms of the level of data collected; Because data has been collected from him in the past. In fact, Apple did not inform users by offering this feature; He also shares in the behaviors he deserves to blame.
The Financial Times says that instead of collecting data from iPhone users, which is used to send targeted advertisements, iPhone users' data is collected in bulk and based on certain user behaviors. Cheryl SandbergFacebook's chief operating officer says the company is working to rebuild its advertising infrastructure using raw or anonymous data.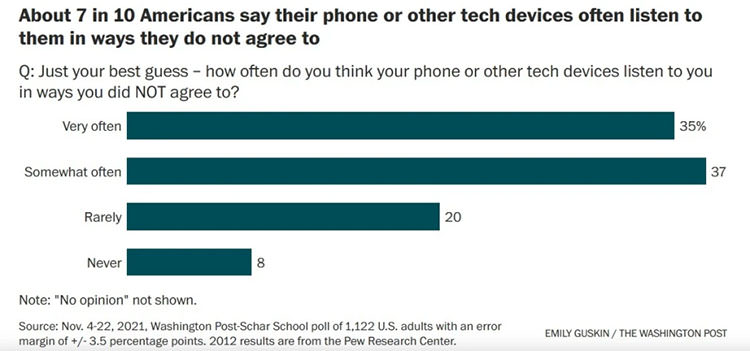 Finally, participants were asked how much they thought their phones or other smart gadgets would examine the surrounding conversations in a way they disagreed with, 72% to "many times" and "to some extent" and 28% to " They voted "rarely" and "never".
Source link