News
A recent update to Google's search engine makes it easier to follow the 2022 FIFA World Cup.
Google search helps you to follow all the events related to the World Cup from November 20 to December 18 (November 29 to December 27, 1401). If you search for the term World Cup on Google, you will be shown a dedicated section at the top of the results that provides a list of upcoming matches along with their dates and times.
Users can follow notifications related to specific teams and select their favorite teams by tapping on the bell icon in the upper right corner of the screen. Also, by tapping on the match you want to follow, you can see its scores and information in real time.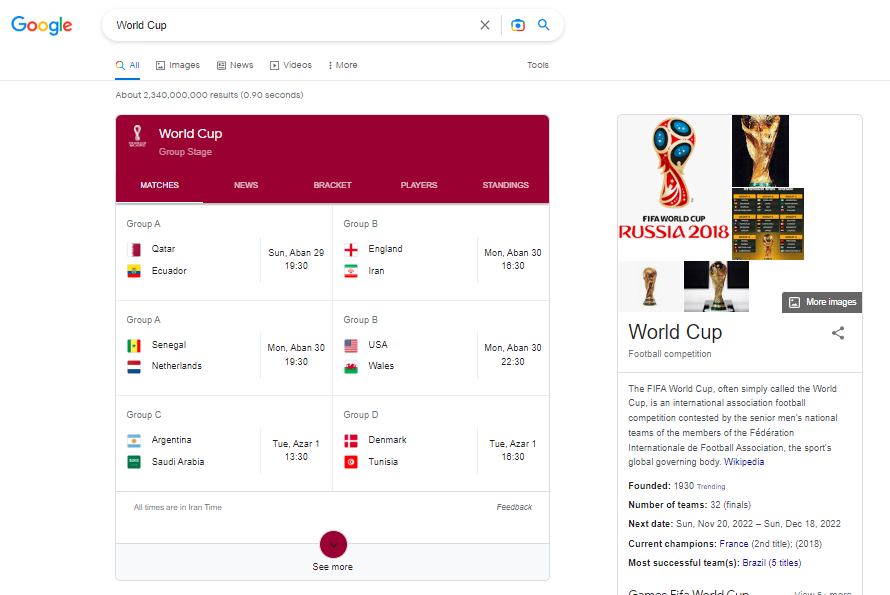 Related article:
to report AndroidNotifications related to World Cup games are not available in Google search for desktop; However, Google's dedicated panel provides users with accurate statistics for the aforementioned competitions. When the games start, you can watch FIFA Plus highlights videos directly on the search screen. In addition, you can participate in a virtual multiplayer game with the fans of the same team or against them.
Also, Google is launching a label for businesses to help them find where to display games. For this purpose, you need to type Where to watch the world cup near me for future matches in this internet search engine. If you use WearOS devices, you can also set reminders for matches.
Source link