News
42% of people are unfamiliar with online furniture services
Nobar, an online furniture service provider, conducted a survey of 906 people in Telegram to examine the behavior of customers of shipping companies in the country. This project, which took place in November, has considered the demands of the Iranian customer in relation to the furniture process.
Out of a total of 906 responses to the questionnaire, 545 have moved in the last two years. 64% of this group have moved once, 28% twice and 6% more than twice in the last two years.
According to Zomit, 29% of these people said that they use telephone services or well-known shipping companies in order to benefit from furniture services; Action has been taken through the website or applications in this field for 17% of participants and in total, only 15% of people have acted in person to do so. Below you can see the level of participation in all methods: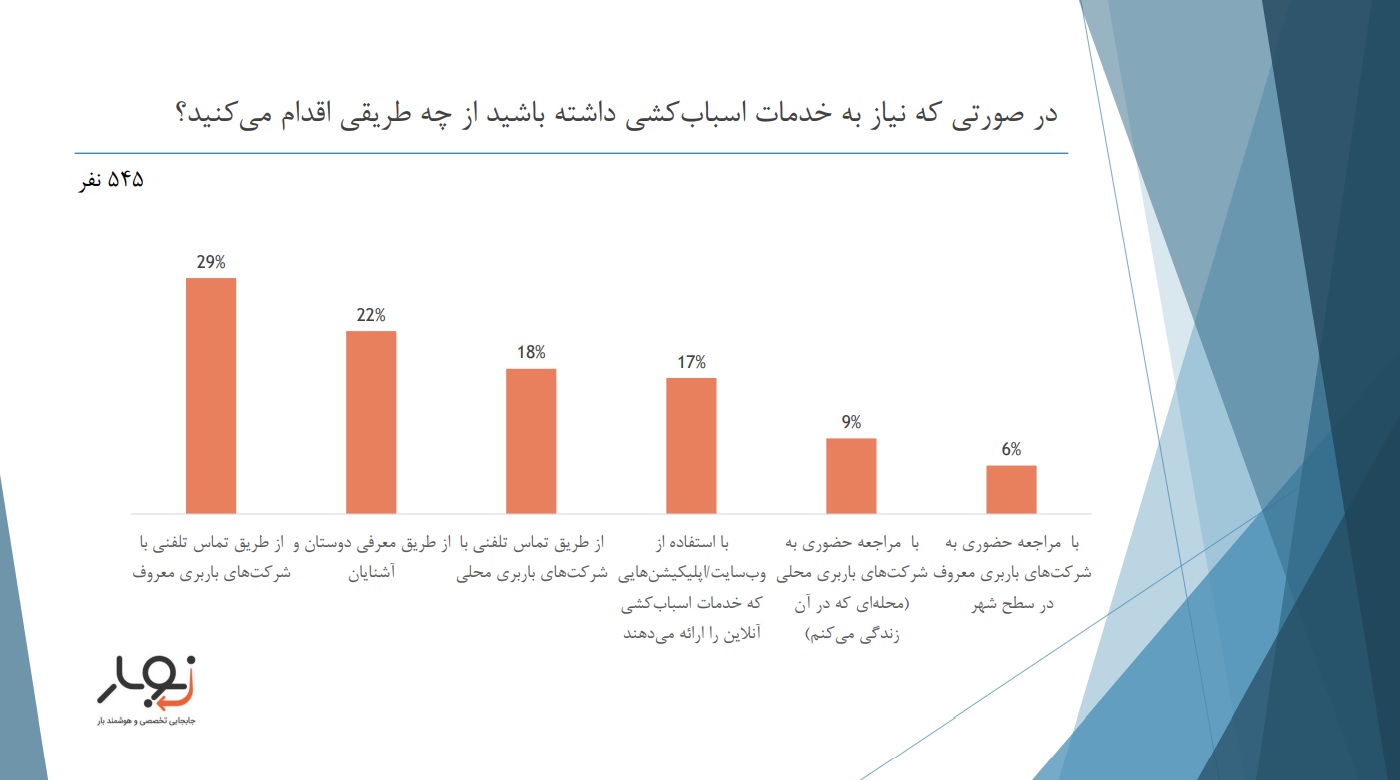 The vehicles they used to carry their belongings were 74% for trucks, 23% for vans, 22% for Nissan and 13% for other vehicles. Also, 73% of respondents are tenants and 27% are homeowners.
Online or offline furniture?
455 participants who use offline methods (face-to-face or telephone call) for furniture services, explained the reason for their action as follows:
41% do not know about the existence of websites or applications of furniture service providers
34% prefer to be able to follow the problem in person if they are dissatisfied with the furniture
28% due to lower fees
27% due to lack of trust in online methods
27% due to the possibility of bargaining
On the other hand, these same people have also explained the reasons that encourage them to be online porters. Interestingly, the most important reason for these people is the more reasonable price.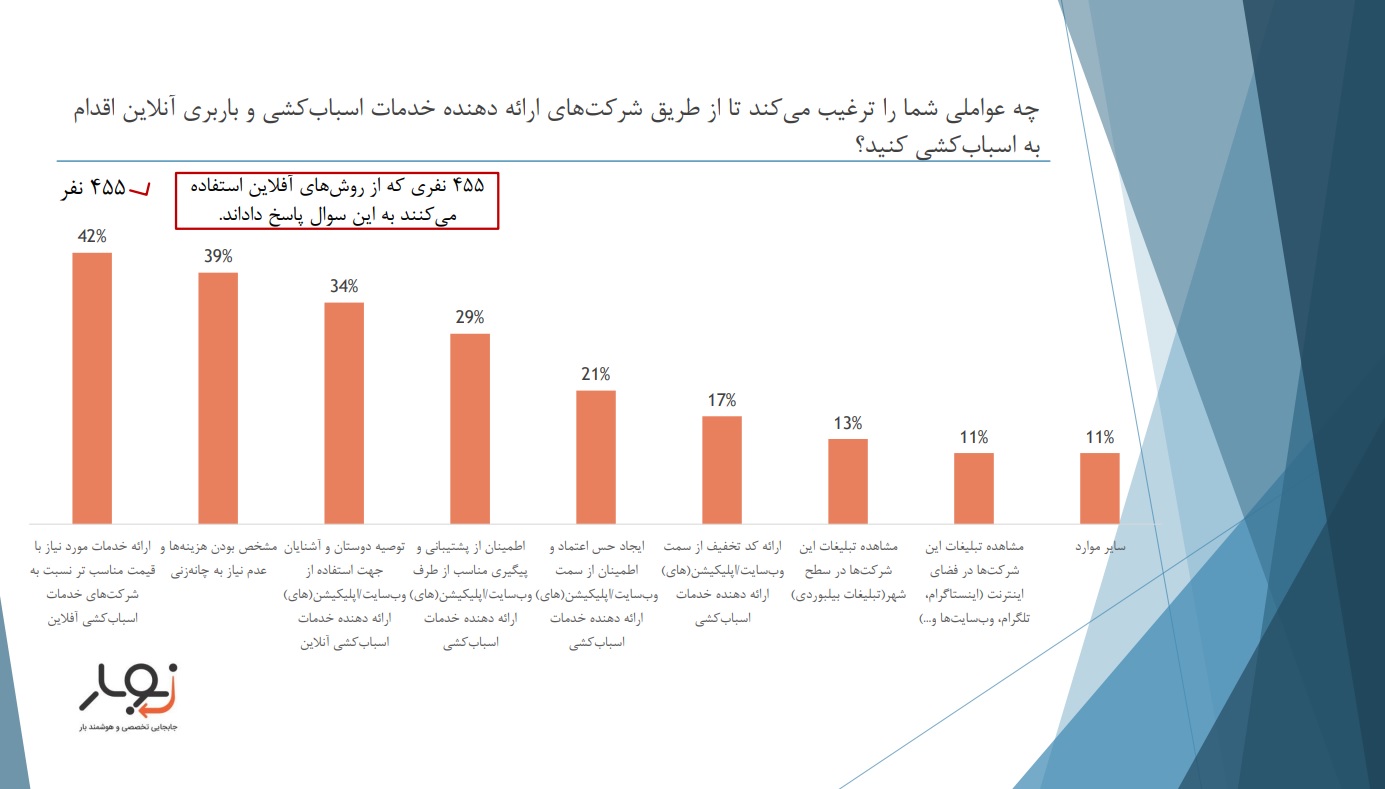 Of the 90 people who use online shipping services, 48% say they are familiar with a Google search and 41% through the experience of friends and acquaintances with a website or app that provides furniture services; 18% of them have referred to the providers of these services by seeing the logo of the shipping company on the trucks and 46% through online advertisements.
These people have stated that their most important concerns in using online furniture services are fixed prices, quality assurance, insurance and compensation. Other reasons are as follows:
Factors influencing the choice of online freight platform
The 90 people who use online platforms for furniture, listed the factors influencing the choice of website or application service provider as follows. Most people consider the short application process to be their most important reason.
Surveys of people about the name or brand of companies providing online shipping services also have interesting results. Of the 906 participants, 42% said they did not know any of these companies. Next, 34% know Snap, then 32% know Zarif Bar, and Atlas Bar, Nobar, Barco and Furniture companies are in the next positions with a significant decrease of 17, 10, 4 and 4%. According to the survey, you can see the use of the services of these platforms below: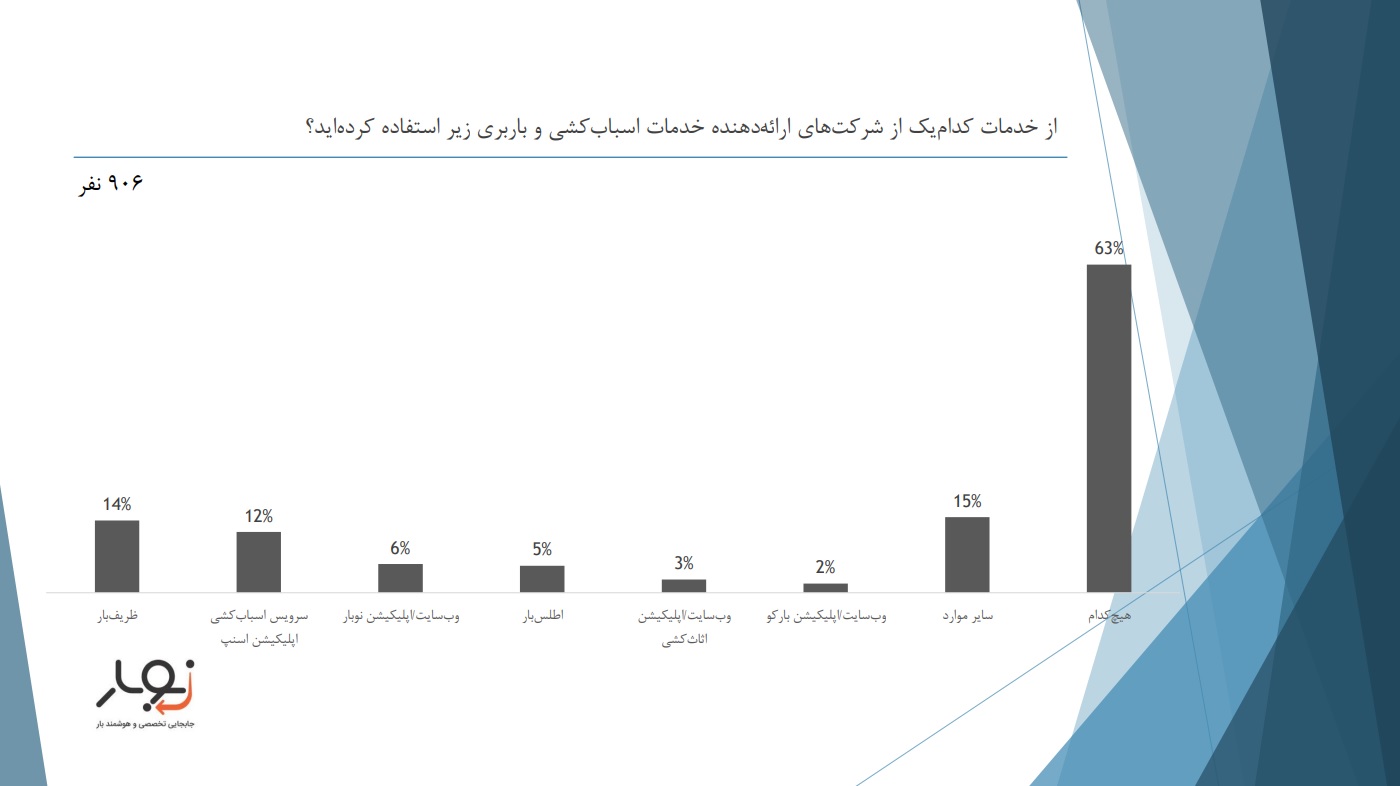 Half of these participants do not have a personal car and their total expenses are generally between 3 to 10 million tomans. 45% of them live in Tehran, 10% in Khorasan Razavi, 6% in Alborz, 4% in East Azerbaijan and 2% in Fars, Mazandaran, Markazi, West Azerbaijan, Gilan, Hamedan and Qom. You can see more detailed information of the participants in the Nobar poll, including age and gender, online shopping rate, marital status, and the number of children and jobs from this link.
Source link