News
15 cars with the lowest maintenance cost up to 300 thousand kilometers
Americans sit behind the wheel a lot. In fact, Americans drive an average of more than 20,920 kilometers a year, according to the Department of Transportation. Therefore, the ability of a car to travel long distances without much trouble is a very important factor when buying a zero-kilometer car.
It should also be borne in mind that maintaining an old car instead of scrapping and buying a zero-kilometer model can be a good decision for the family budget. In general, buying a new car will cost a lot of money.
iSeeCars is a website that buys and sells used cars across the United States and has recently surveyed millions of vehicles to see which one will last the longest. You can consider the cars on this list as products that are likely to be used for long distances. Anyway, we want to introduce 15 cars at your service, dear ones, which are more likely to pass the mileage of about 322 thousand kilometers (200 thousand miles).
It is important to note that although these cars belong to older models, there is no guarantee that the same amount of performance will be recorded in current models. It is worth mentioning that the images of the current models have been used to show the cars, and if a special car is considered, the relevant image will be inserted.
Right now, this is you and this is the list of 15 cars that are most likely to have a mileage of 322,000 km and above.
Rank 15 and 14. Toyota Cena and Honda Odyssey
The 15th and 14th ranks of this list belong to two famous minivans and are in fact the only minivans on the list. According to iSeeCars, about 3.2 percent of these family cars miss the 322,000-kilometer mileage, making them ideal options for long-distance travel with their family.
Rank 13 and 12. Honda Ridgeline and GMC Yukon
The next two ranks are held by Honda Ridgeline and GMC Yukon. 3.7% of Rigline models reject the 322,000 km mileage. Unlike other mid-size pickups on the market, the Ridgeline is based on an ion body chassis. Using the same structure of passenger cars has allowed Honda to produce products with the same ride and softness as the passenger models.
But iSeeCars predicts that 3.7 percent of GMC Yukon models will reject such a feature. The Yukon is the first large, traditional chassis you see on this list. In fact, be prepared to see the many long chassis on this list, which include various General Motors models.
Rank 11 and 10. Toyota Highlander Hybrid and Toyota Prius
The next two cars on this list, which are jointly ranked 11th and 10th, are not very surprising because they are the product of well-known manufacturers. Both cars use hybrid propulsion. The Toyota Highlander Hybrid is ranked 11th, and 3.8 percent of these vehicles reject 322,000 kilometers of performance. Interestingly, the standard non-hybrid Highlander is not among the 15 cars on this list. Highlander is also the only ion body crossover on the list.
Toyota Prius is ranked tenth. This famous hatchback is definitely one of the least used on the market and this list. One iSeeCars executive says the Prius attracts buyers who keep their cars as long as possible and want products with lower maintenance and fuel consumption costs. Prius is also a popular option for taxis and car sharing services.
Rank 9 and 8. Toyota Avalon and Toyota Tundra
Have you noticed the strong presence of Toyota products in this list? Without revealing other cars, it can be said that out of 15 cars in this list, 8 models have been produced by Toyota. 3.9 percent of Avalon models and 4 percent of Tundra models will miss 322,000 kilometers.
The Avalon is the only traditional four-door sedan on the list, but it has a lot in common with other Toyota and Lexus sedans, including the Camry and ES. The Tundra is one of the most famous vans in the world that has such a reliable performance. It's not bad to know that the best-selling pickup truck in the United States, the Ford F-150, is not on this list, and 2.6% of these pickups reject the 322,000-kilometer mileage.
Rank 7 and 6. Chevrolet Tahoe and Ford Expedition
Two large American high chassis are ranked seventh and sixth. 4.4% and 4.5% of the Tahoe and Expedition models will reject the function we are considering, and we are not surprised by this. Large long chassis are usually chosen for family and long trips.
Rank 5 and 4. Toyota 4 Runner and GMC Yukon XL
Chassis high again! Fifth place went to the Toyota 4 Runner, a car whose 4.6 percent of its various versions will exceed 322,000 kilometers. This figure is 5.2% for the Yukon XL. 4 Runner continues Toyota's famous routine and comes in a variety of versions.
The Yukon XL is also a longer version of the standard Yukon that provides more space for passengers and cargo. This car is basically similar to the next car on this list.
Rank 3. Chevrolet Suburban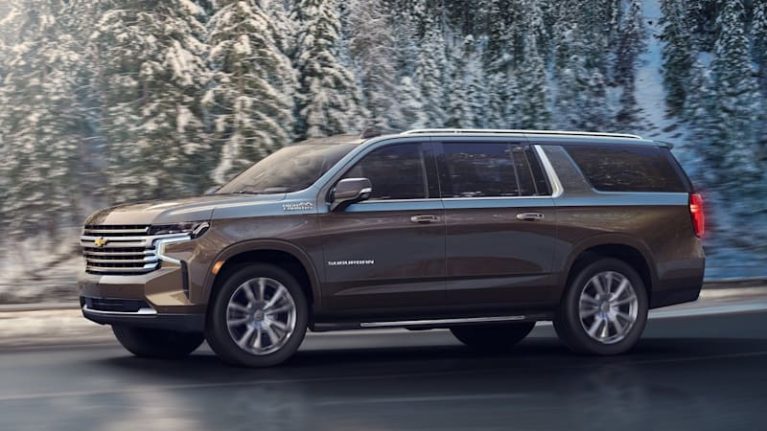 Yes that's right. The Chevrolet Suburban has a similar structure to the Yukon. This car, like the Yukon, Yukon XL and Tahoe, is chosen for long trips. 6.6% of different versions of Suburban can cross the 322,000 km mileage.
The CEO of iSeeCars says that all GM products use a lot of common platforms and components, confirming why the carmaker's popular long-wheelbase vehicles are likely to cross such a functional frontier.
Rank 2. Toyota Sequoia
Here we come to another product from Toyota. The platform you see belongs to the 2011 model, but it is exactly the same as the 2021 model! The new version of Sequoia is prepared for the 2022 model and has fundamental differences with the previous 8-cylinder model in the picture. It remains to be seen whether the new Sequoia will perform similarly to the previous model. 14.2% of the platforms reject the 322,000 km performance, which is a remarkable performance.
Rank 1. Toyota Land Cruiser
18.2% of land cruisers reject 322,000 km of performance, which is a very sensitive performance. Given such a performance, it is a shame that 2021 was the last year of the presence of this famous off-roader in the American market. The new generation Land Cruiser has just been introduced, but in the US, the Lexus LX 600 will serve as the popular tall Toyota and Lexus.
Source link